News
---
Scott Compton Speaks on Building Lifecycle & Maintenance at AIA Pennsylvania
May 4, 2017
Hear from Scott Compton, Managing Principal of Klein and Hoffman – Philadelphia, as he discusses 'Building Lifecycle & Maintenance' as it relates to K-12 design and buildings throughout Pennsylvania. Over 50 design professionals, K-12 experts and state legislators attended the event hosted by AIA Pennsylvania to discuss the integral role and responsibilities of the AEC industry in advocating for a brighter future.
---
K&H Open House
April 7, 2017
Our Open House was a huge success. Thank you to everyone that came out – we hope you enjoyed it as much as we did. We'd also like to thank our K&H team members for all of their hard work. We'd also like to congratulate the winners of our giveaway! – iPad – Nathalie Rader, Property Manager of a Michigan Ave Condo High Rise; FitBit Alta HR – Stephanie Skelley, Associa Chicagoland; $100 MasterCard Gift Card – Jeff Runck, Berglund Construction. Click here to view photos!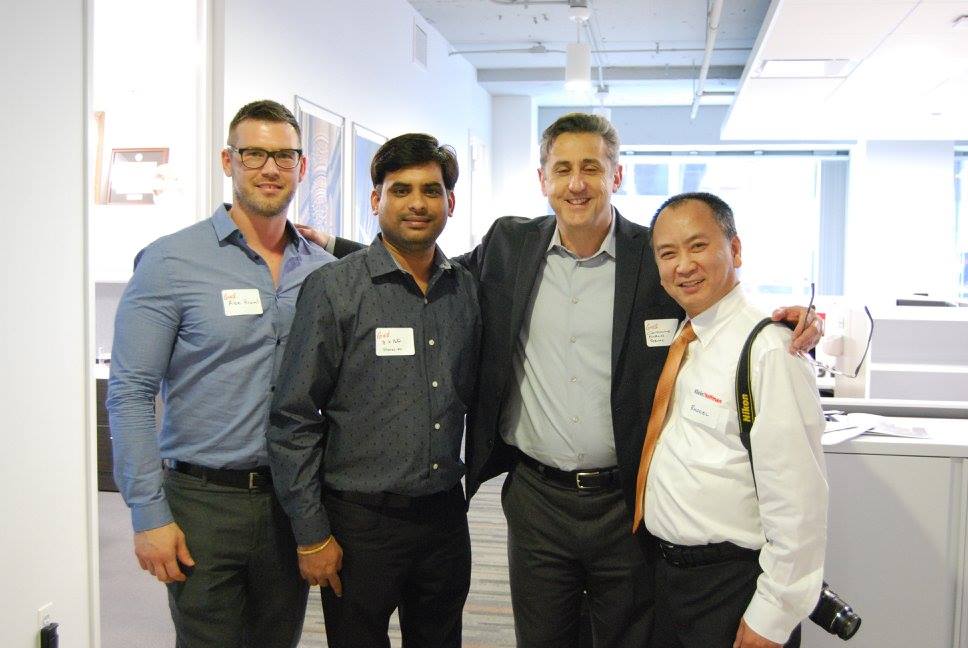 Bad Axe Throwing Chicago
April 7, 2017
We rolled up our flannel sleeves for some adrenaline-filled axe throwing, lumberjack style at Bad Axe Throwing Chicago. The competition was intense, but good sportsmanship was the theme of  Friday night with everyone cheering for the throwers no matter the team. View more pics on our FB page.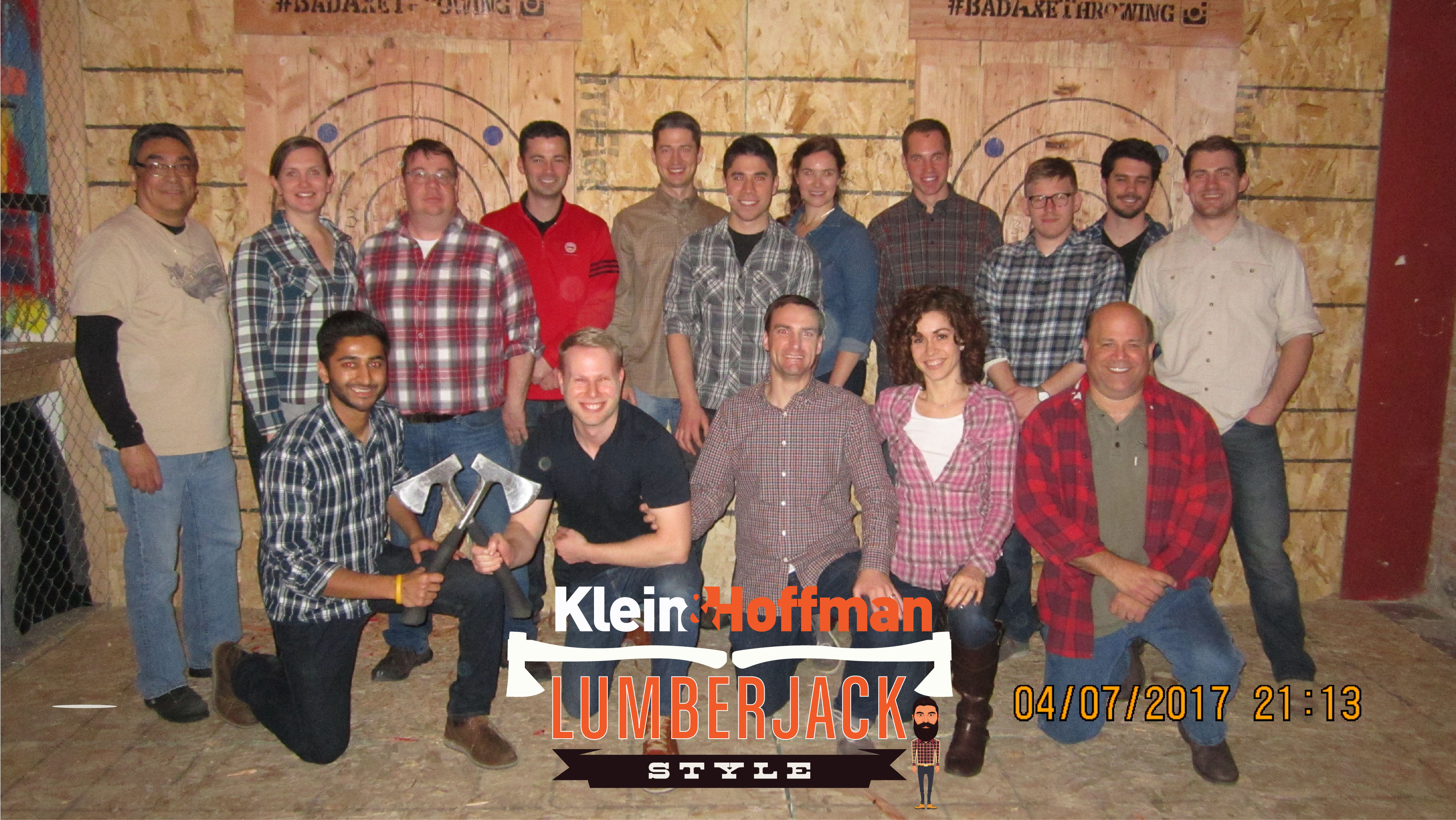 ---
Pete Roman Retires from Klein & Hoffman
March 31, 2017
We have another legend hanging his cap on the wall here at K&H to enjoy his next chapter in life. Pete Roman, one of our beloved inspectors will be retiring from the office to enjoy many of his hobbies. Pete has served in the office for 16 years and taught a lot of us the joy of our field. He will be missed by everyone here and we wish him all the best in the future! Keep on flying! Click here to view photos from the office retirement party.
---
Legendary Landmarks Celebration 2017
March 28, 2017
Celebrating Chicago's legendary leaders and their contributions to the civic and cultural skyline.  Click here to view our album.
---
Kyle Stanish Keynote Speaker at the Loyola University Big Ten and Friends Parking and Transportation Conference
March 30, 2017
Loyola University hosts the 2017 Big Ten & Friends Parking and Transportation Conference April 2nd – 5th. The annual Big Ten & Friends University Transportation and Parking Conference will take place April 2nd to April 5th focusing on the unique issues of the higher education transportation and parking environment. Kyle Stanish, PhD, SE, PE, is a keynote speaker and will present, "What to Expect when you are Restoring". Kyle was recently appointed Chair of American Concrete Institute Committee 365 on Service Life Prediction, and Chair of the Durability subcommittee of ACI 562: Assessment, Repair and Rehabilitation of Concrete Buildings (the Concrete Repair Code). Click the link to view more about Loyola University's upcoming conference. http://www.luc.edu/campustransportation/big-ten/
---
High-Performance Design in High-Rise Buildings
March 27, 2017
Allison McSherry joins Brett Bridgeland of Seventh Wave to discuss building envelope performance including energy code requirements, compliance and performance properties; and performance solutions for all-glass buildings. Building owners, developers, architects, mechanical and electrical engineers, project managers, general contractors, energy efficiency specialists, commissioning authorities, and anyone involved and interested in high-performance building design are encouraged to attend this free webinar, Wednesday, April 12th at 1PM. Click here to learn more.
---
Klein & Hoffman is Holding an Open House on Thursday, April 6
March 9, 2017
Everyone is invited to attend from 4:00pm to 7:00pm to celebrate K&H's new brand, website, and rehabbed office. There will be a full bar, finger food, ping pong, and even an iPad giveaway. RSVP for this free event by emailing RSVP@kleinandhoffman.com.
---
Klein & Hoffman Unofficial Ski Trip
February 4, 2017
Some of the K&H team got together for the annual (unofficial) company ski trip at Granite Peak. Click here to view photos from the trip on the company Facebook page.
---
Homa Ghaemi a Panelist for SEAOI's Women in the Built World Symposium
January 27, 2017
SEAOI Structural Engineers Association of Illinois' Women in Structural Engineering (WiSE) partnered up with Women in Restoration & Engineering (WiRE) and Chicago Women in Architecture (CWA) for the 'Women in the Built World Symposium' being held today at the Merchandise Mart. Klein and Hoffman COO / Principal Homa Ghaemi is a panelist at the "Women in Leadership: View from the Top of the Ladder" session where she and other panelists will discuss their personal career experiences and insights on leadership.
---
Klein & Hoffman Team Members Judge the 25th Annual Future City Regional Competition
January 9, 2017
The future is bright! Michelle Ryland and Jon Carag judged the 25th Annual Future City Regional Competition at UIC. The Future City Competition serves 6th, 7th and 8th graders. Click here to learn more.
---
Klein and Hoffman Kares Prepares Meals from the Heart
December 16, 2016
Serving others warms our hearts. Our team prepared a delicious taco bar and an ice cream station with a variety of toppings for the brave kids and families at Ronald McDonald House. We are thankful for another team opportunity to serve these families with Meals from the Heart.