News
---
Happy International Women's Day!
March 8, 2018
Happy #InternationalWomensDay to the women around the globe – especially to the talented architects, engineers, and admin team that contribute to the success of our firm and make every day awesome!  #workingtogether #65years #kleinandhoffman #chicago #Philadelphia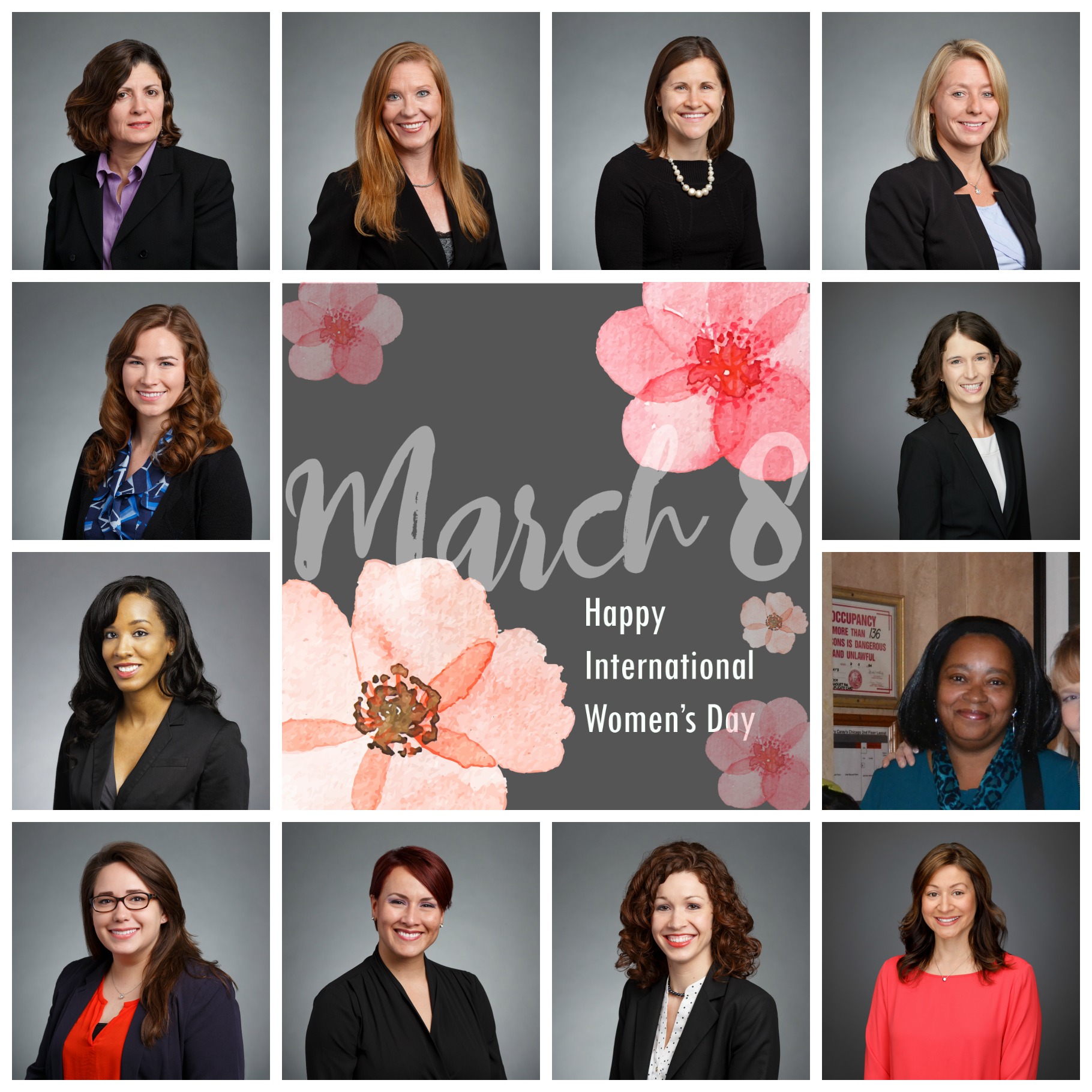 ---
K&H Speed Skaters
March 6, 2018
K&H members grabbed their skates and hit the Skating Ribbon at Maggie Daley Park last Thursday night for a much-needed hangout while enjoying the last few weeks of this cold weather. Some of us don't understand why some of our coworkers love this blistering cold weather….sun, surf & sand sounds much better!  #kleinandhoffman #65years #workingtogether#wannabespeedskaters #beachsoundsbetter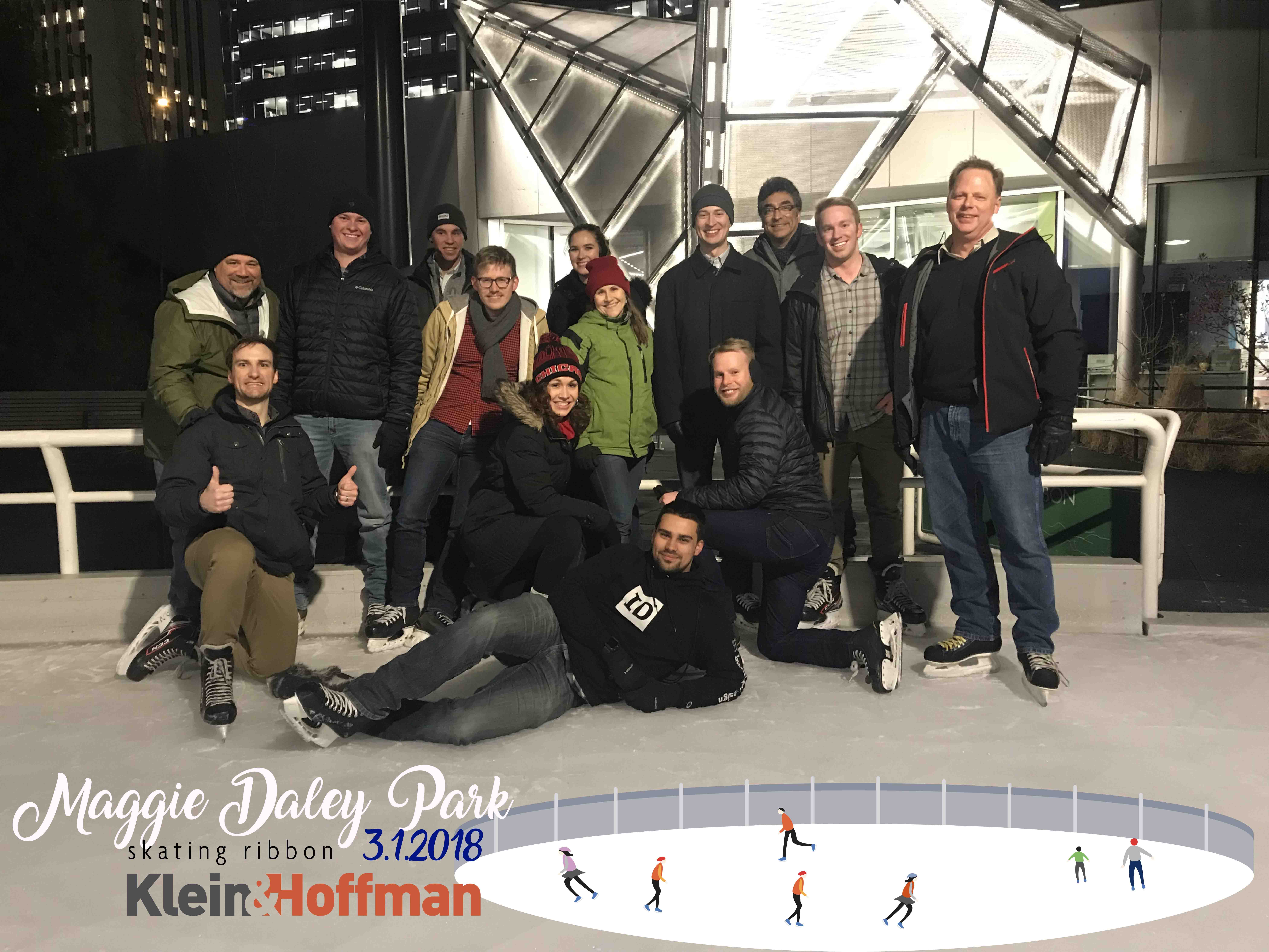 ---
K&H's Philly Team Gets Behind the Scenes Tour at the Philadelphia Flower Show
March 1, 2018
K&H's Scott Compton, Tony Kmush, and Tom Werner joined a group from AIA Philadelphia/ AIA Pennsylvania on a private "behind the scenes" tour of The Philadelphia Flower Show at the Convention Center. The show officially opens on Friday and is the PHS : Pennsylvania Horticultural Society's principal fundraising event. Special thanks to Leigh Ann Campbell and Chief of Shows Sam Lemheney of PHS for their kind invitation!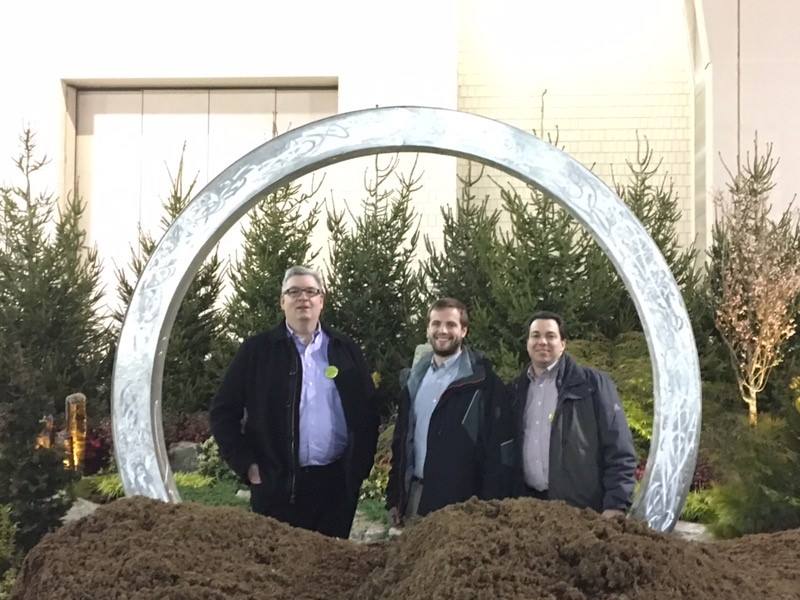 ---
Peter Power Guest Presenter at CAI IL's 36th Annual Condo, HOA Conference & Expo
February 23, 3018
K&H's Pete Power, Brad Schneider of CondoCPA, and Kristin Walker of Countryside Bank will present, 'Tools for Financial Stability of Your Association', at the Community Associations Institute of Illinois 36th Annual Condo & Expo. Attendees will understand the principles and uses of financial statements, when and how to obtain a bank loan, how to use the reserve study for successful financial planning, and successful investment strategies. The session will include various role-play scenarios and a panel discussion. Click the link to learn more about the Expo.  http://bit.ly/2C37DB5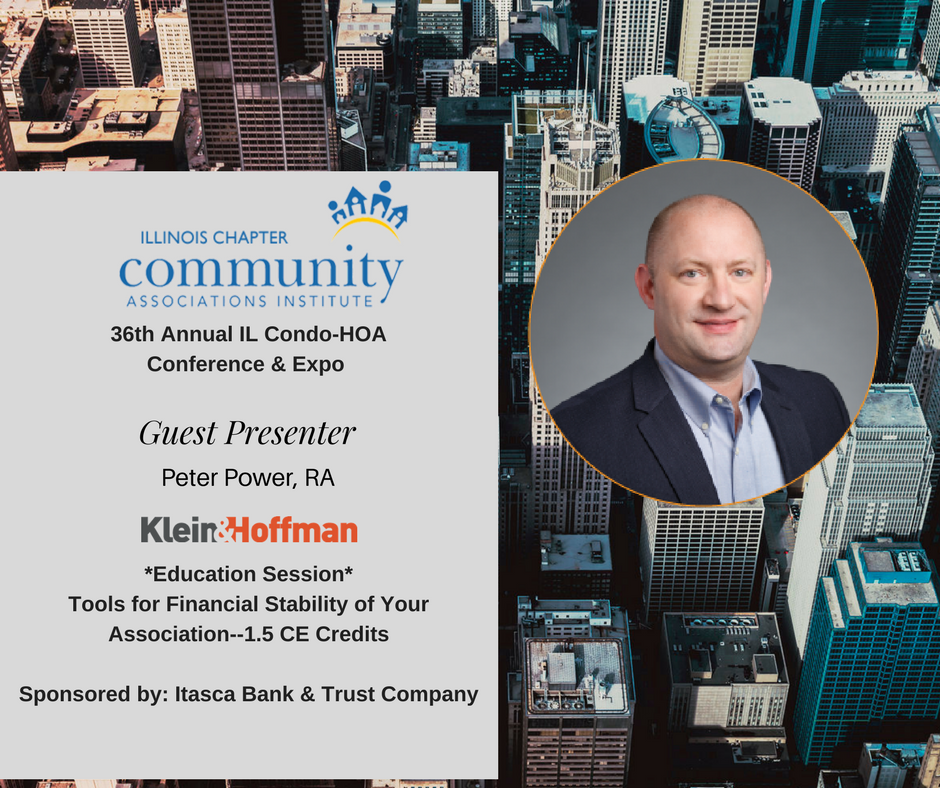 ---
Jon Carag, 2nd Place Winner in Skyhive Skyscraper Challenge Competition
February 20, 2018
We are proud to announce Mr. Jon Carag's recent accomplishment of winning 2nd place in the Skyhive Skyscraper Challenge competition. This international competition takes proposed concepts for the future of high-rise offices that address issues of sustainability, globalization, adaptability and the digital revolution. Mr. Carag proposed to re-use the abandoned site for Calatrava's Chicago Spire located in the Streeterville community. His unique design takes an office tower and incorporates a mixed-used podium building with open public space to connect the north side of the Chicago Riverwalk with a pathway to Navy Pier. The vertical organization of the office tower utilizes intermittent "Sky Lounges" for the users of the tower as shared meeting and recreational spaces. The building's "Living Facade" uses a double skin layer and interstitial inhabitable gardens to help control the internal temperature of the building and redefine the image of an office within the city. The outer façade layer maximizes the large available surface area of the façade by collecting of rainwater and capturing wind power. To adapt to the larger required floor area of an office tower core in comparison with the original Spire's residential program, the building's radial column grid was shifted outward and angled back towards to the existing caisson locations of the Spire foundation. We are amazed by his work and very proud of him for taking on this challenge. Did we mention he got 2nd place, internationally? Read more here: https://skyhive.beebreeders.com/#p2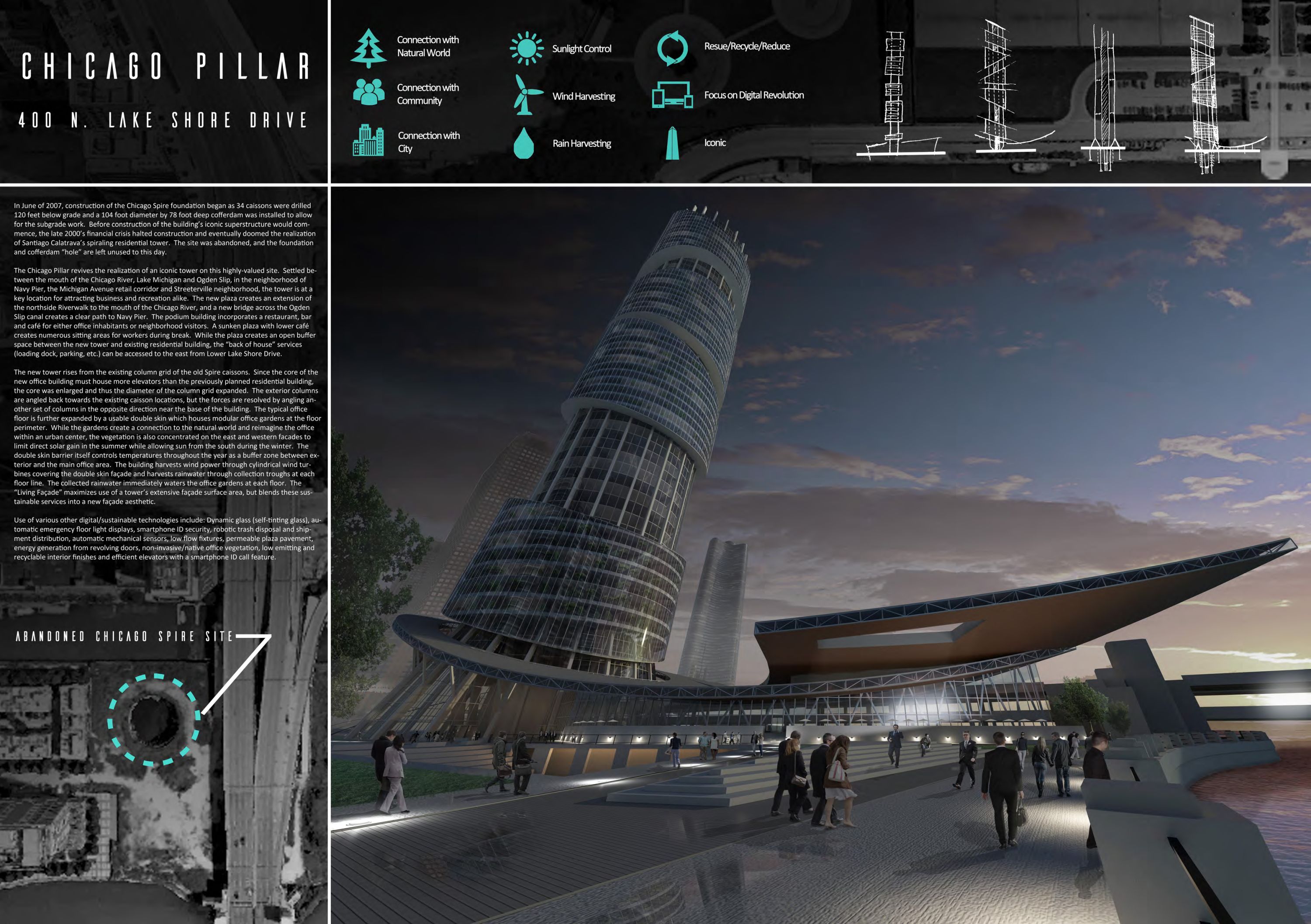 ---
Team K&H Kares Serves Meals from the Heart
February 6, 2018
Last Friday, #TeamKleinandHoffmanKares served "Meals from the Heart" at RMHC Chicago and Northwest Indiana with a tailgate menu that included sliders, wings, tater tots, roasted veggies, & sweets to get everyone amped for Sunday's Super Bowl game. This is one of our favorite annual volunteering events because we love to prepare dinner for the families while their little ones get treatment at Ann & Robert H. Lurie Children's Hospital of Chicago or local area hospitals. We met residents from all over the Midwest, including one family all the way from Minnesota! We believe Gordon Ramsay would be proud – everything was cooked to perfection! I think our office is ready to get on a cooking show, maybe Cupcake Wars, Master Chef or Iron Chef? A big thank you to the Ronald McDonald House volunteers for their help throughout the night and letting us come back to serve families!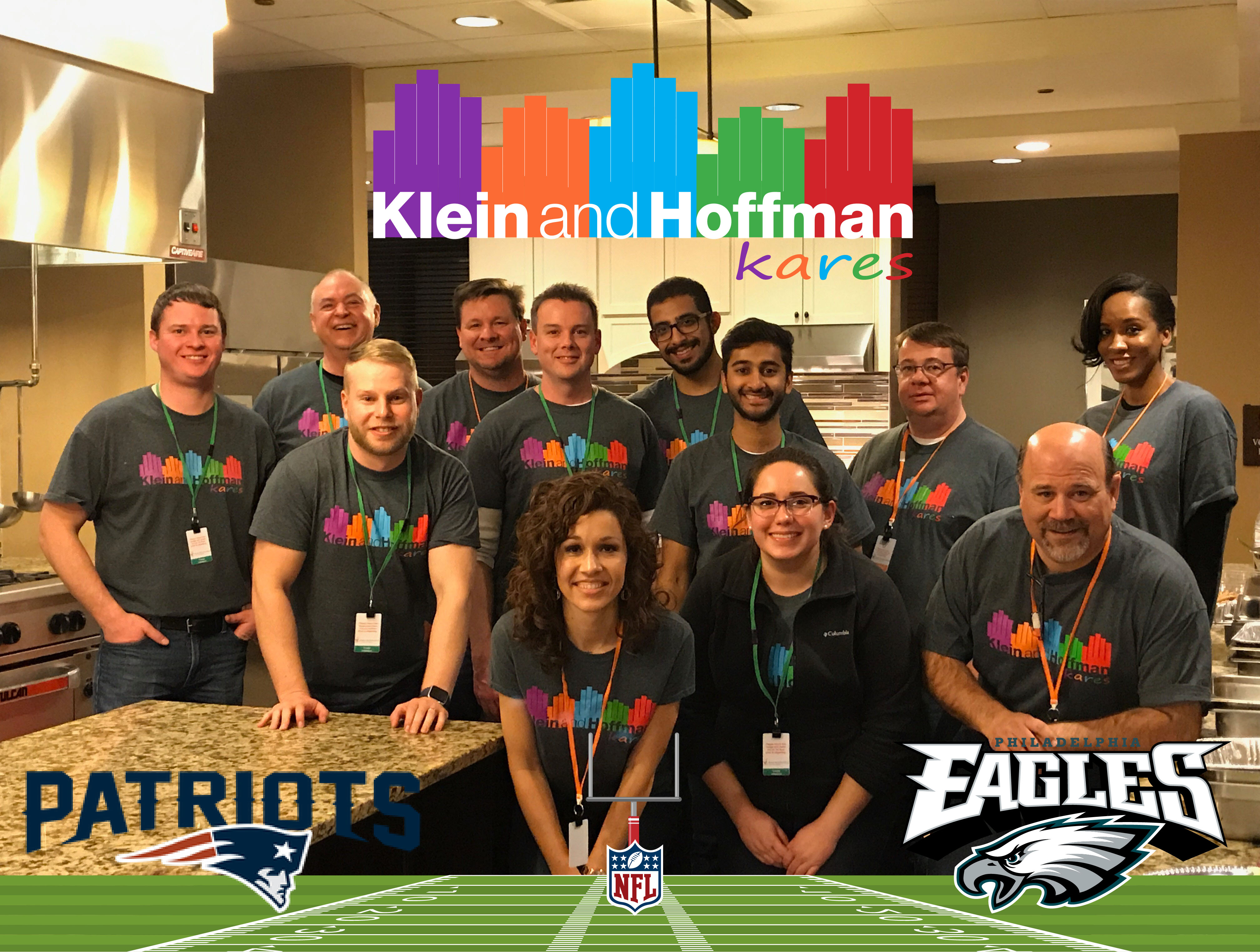 ---
Scott Compton New AIA Pennsylvania President
January 31, 2018
We are pleased to announce Scott Compton from our Philadelphia office has recently taken on the role as AIA Pennsylvania President! Scott has been involved with AIA for over a decade and has served in a handful positions within this organization, such as, President of the Eastern Pennsylvania Chapter, and Government Affairs Chair for the state component. His role in the K&H Philadelphia office as Associate Principal/Managing Principal, Scott oversees the economic growth and business development for the Philadelphia area. Scott's multifaceted background in land development, planning, zoning and architecture background has helped him manage extensive projects in his career, as well as, pass his knowledge to handful of organizations. To read more about Scott and things going on with AIA PA, please follow the link: https://aiapa.org/…/aia-pennsylvania-board-ushers-in-2018-…/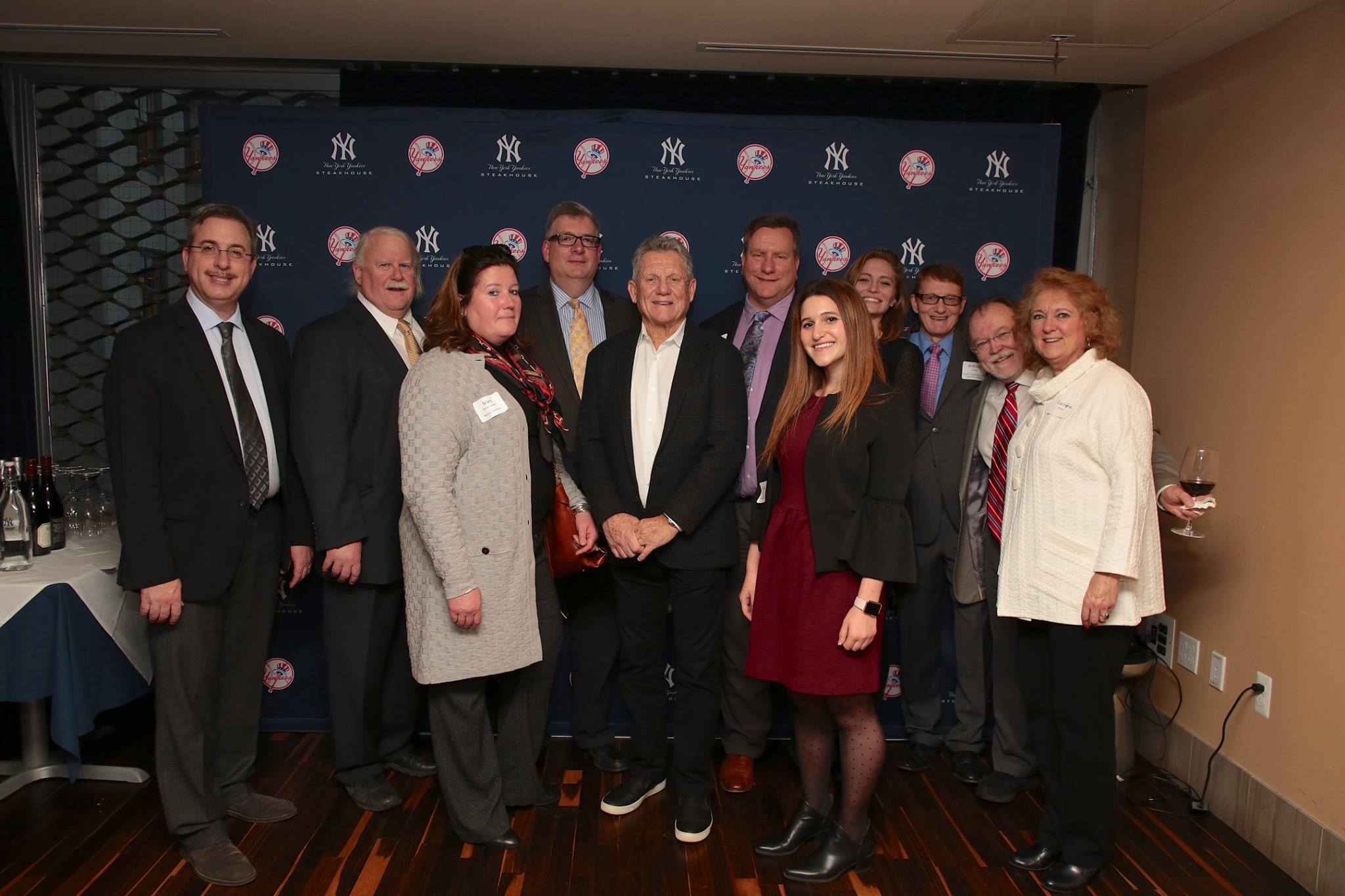 ---
Michelle Ryland & Step Up for Kids
January 30, 2018
K&H member, Michelle Ryland, conquered and finished (she also beat her personal record) the hike up the AON for the 21st Annual Aon Step Up for Kids on Sunday morning. A little backstory on why Michelle decided to perform at this gracious and heart-felt fundraising event: her best friend was a patient at the former Children's Memorial Hospital – now Ann & Robert H. Lurie Children's Hospital of Chicago – nearly 11 years ago. Michelle remembered the attention and comfort Lurie Children's brought to her friend during her treatments. After that life changing event, Michelle has been attending the Aon Step Up for Kids to ensure other patients will receive a similar experience as her friend.
Another K&H member, Tom Gabel, mentioned to Michelle his little niece, Maxine (pictured), had a heart transplant last spring and is still going to Lurie Children's for treatment. On the behalf of the family, Michelle dedicated her race and received donations for Maxine. To Tom's family, we are sending our love and blessings to your family, especially for little Maxine as she gains strength and heals. To Michelle, we thank you for your dedication and willingness to help others in need.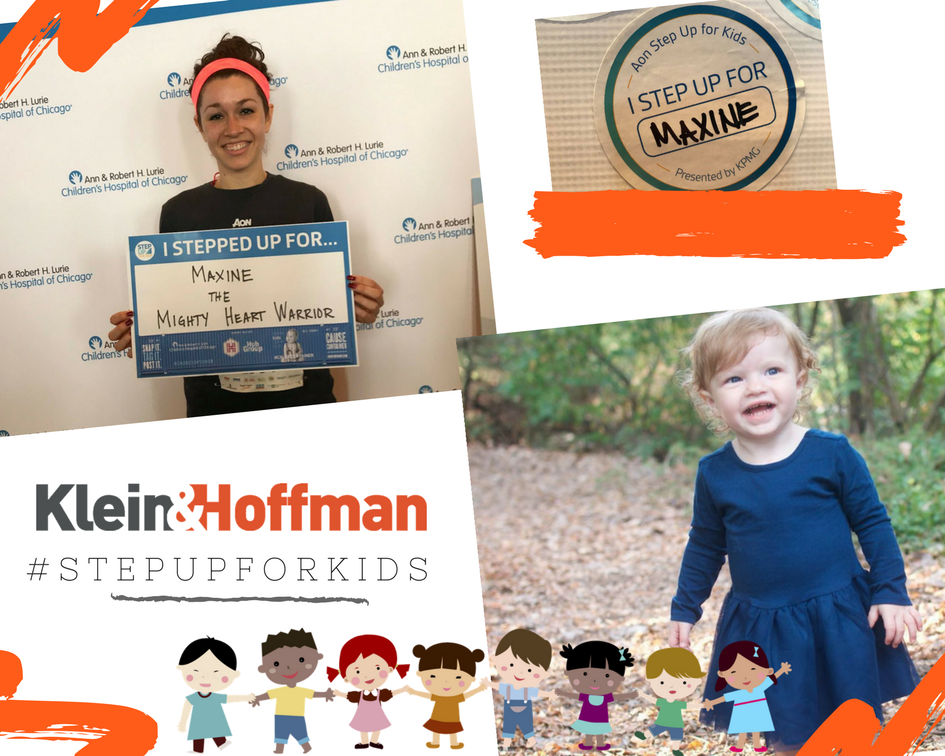 ---
#FirstPlace
January 24, 2018
The Skyline Council of Landmarks Illinois hosted their 6th annual Trivia Night yesterday at Revolution Brewing in Logan Square. Things got heated up after Riggio/Boron raised the stakes by taking First Place for the night. Riggio/Boron's team consisted of Keith Boron and Matt Schultz with Riggio/Boron LTD., our very own Allison "Ally" Toonen-Talamo, Laura Schuetz with Partners for Sacred Places – Chicago, Chelsea Medek with AltusWorks, and Michael Reschke, Jr. with The Prime Group, Inc.. The jam packed night consisted of 9 rounds of questions ranging from, naming in order the tallest skyscrapers in the Chicago skyline, to listing all of the ingredients in a Chicago Dog. Good thing no one said KETCHUP-(ew)! Thanks to Riggio/Boron for the invite and the Skyline Council for giving us yet another great night! #2018Winners #SkylineTriviaNight #kleinandhoffman  Photo Credit: Landmarks Illinois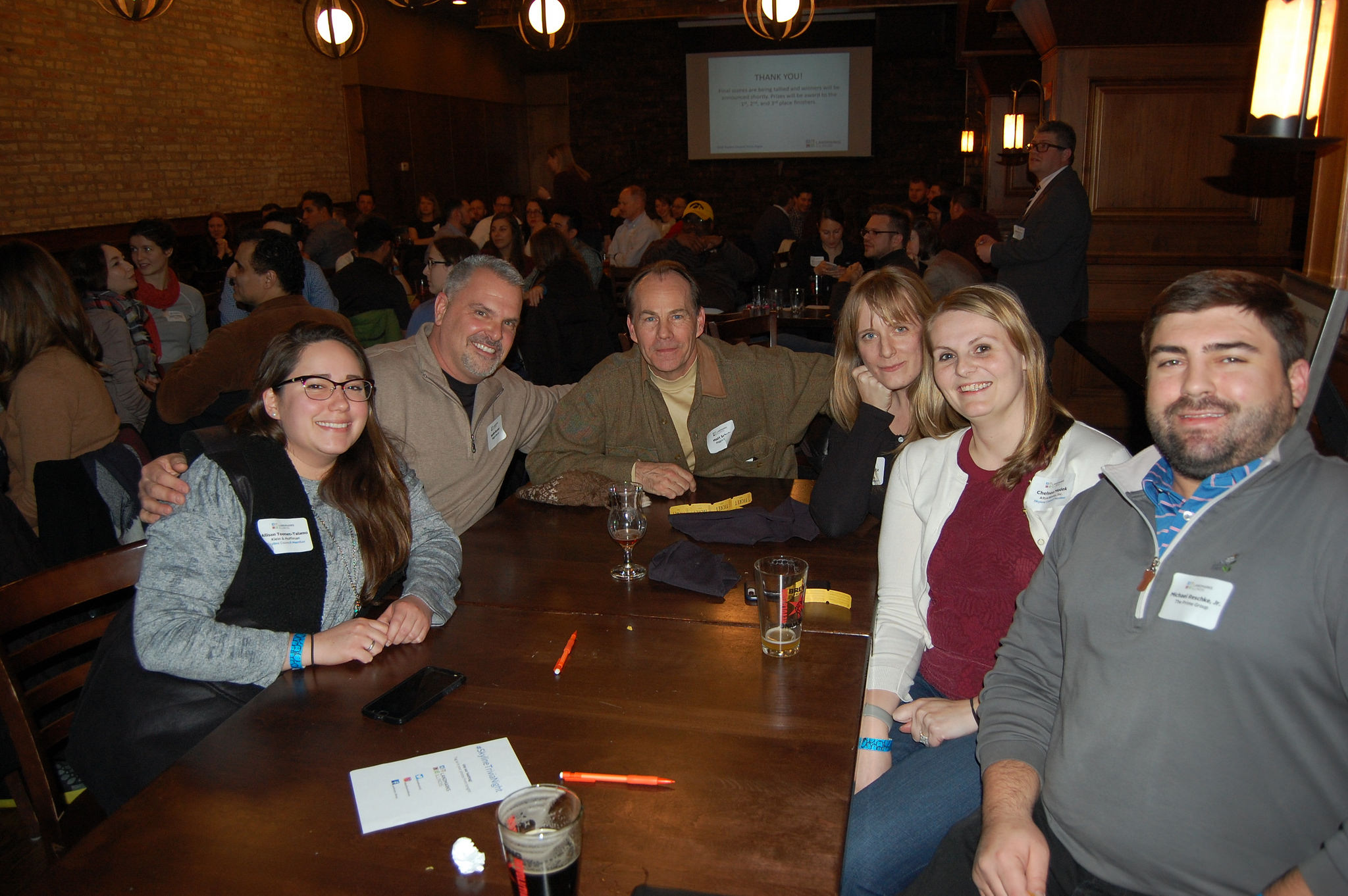 ---
John Birazzi & Future City Competition
January 23, 2018
K&H member, John Birazzi, recently participated in the 2018 Future City Competition as one of the special awards judges representing the Chicago Committee on Highrise Buildings (CCHRB). The competition is open to all middle schools in the Chicagoland regional area. This year 16 schools participated, with one school making the journey to UIC all the way from Urbana, IL. The goal of this competition is to push the young minds of our future generations to learn about engineering and architecture design, sustainability, urban infrastructure and development, development of technical writing and research, as well as, presenting real life problems to middle schoolers. Additionally, we cannot forget two of the most important goals of show casing their team building and a solution to their research. We are honored to have one of our team members to be able to participate and challenge the young minds of the future. Congrats to all of the winners and Future City for celebrating their 25th Anniversary!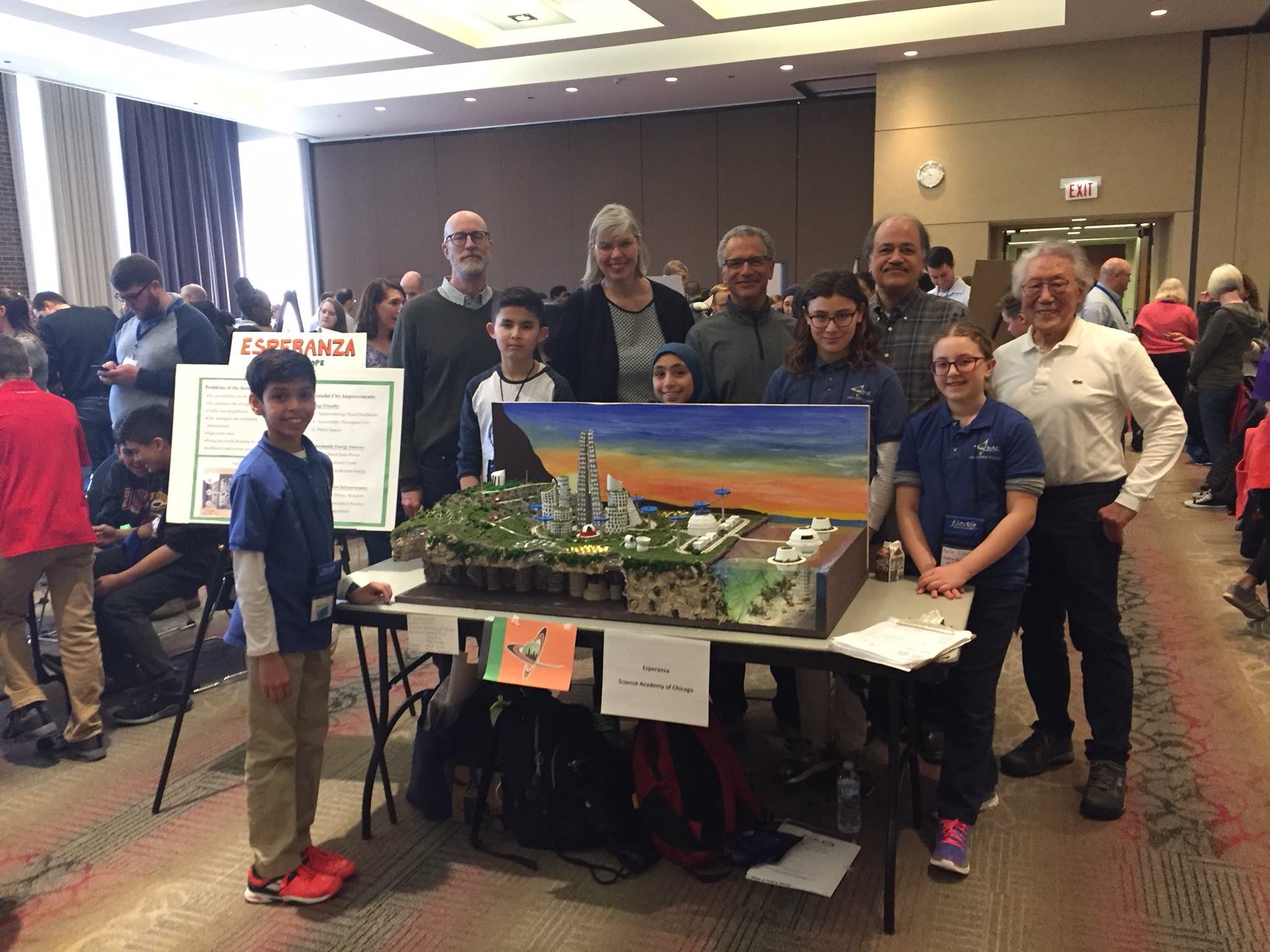 ---
Keep Your Building S-A-F-E!
January 18, 2018
With the beginning new year, a lot of you might start to wonder if your Building needs to do a Critical Exam, Ongoing Inspection, Iron Inspection or any of the other City required inspections to ensure your building is S-A-F-E. So before your building gets too C-R-I-T-I-C-A-L, take a look at our webpage to see the services we can provide! www.kleinandhoffman.com/inspection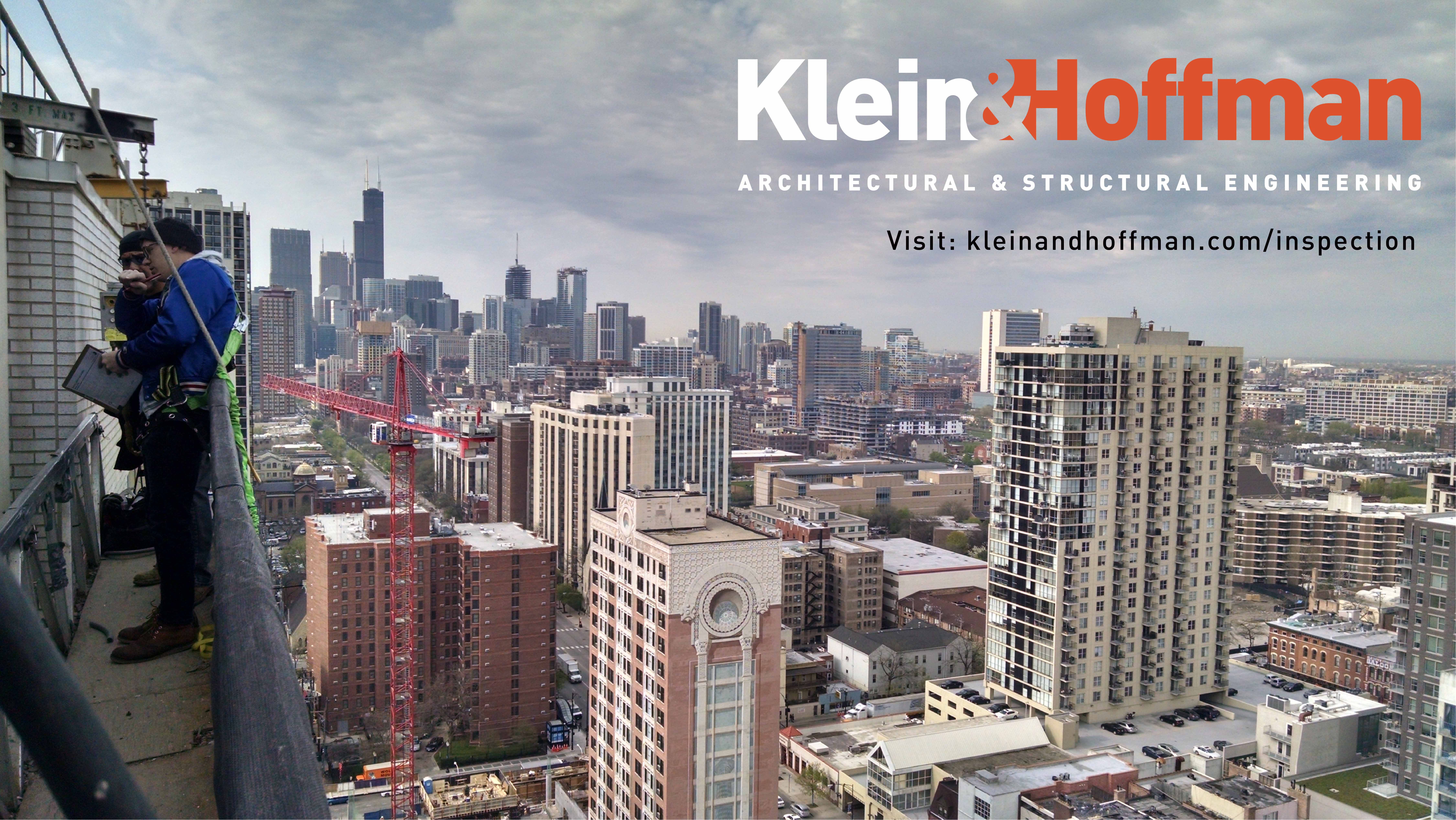 ---
Michelle Ryland is a Licensed SE!
January 16, 2018
We would like to congratulate one of our powerhouse colleagues, Michelle Ryland, for recently passing her last Structural Engineering (SE) exam. On top of becoming a licensed Structural Engineer, she is also a licensed Architect, involved with AIA Chicago, and active member of the SEAOI Structural Engineers Association of Illinois as a co-chair of the Young Engineers Committee (YEC). Did we forget to mention she is an avid runner? Under her belt she has participated in the Chicago Marathon, a handful of Chase Corporate Challenge races, 5Ks, 10Ks, and half-marathons, as well as, multiple charity stair climb races such as the Hustle Up the Hancock and the AON Step Up for Kids. K&H has one thing to say, we are beyond proud of your recent achievement and promotion, keep up the awesome work!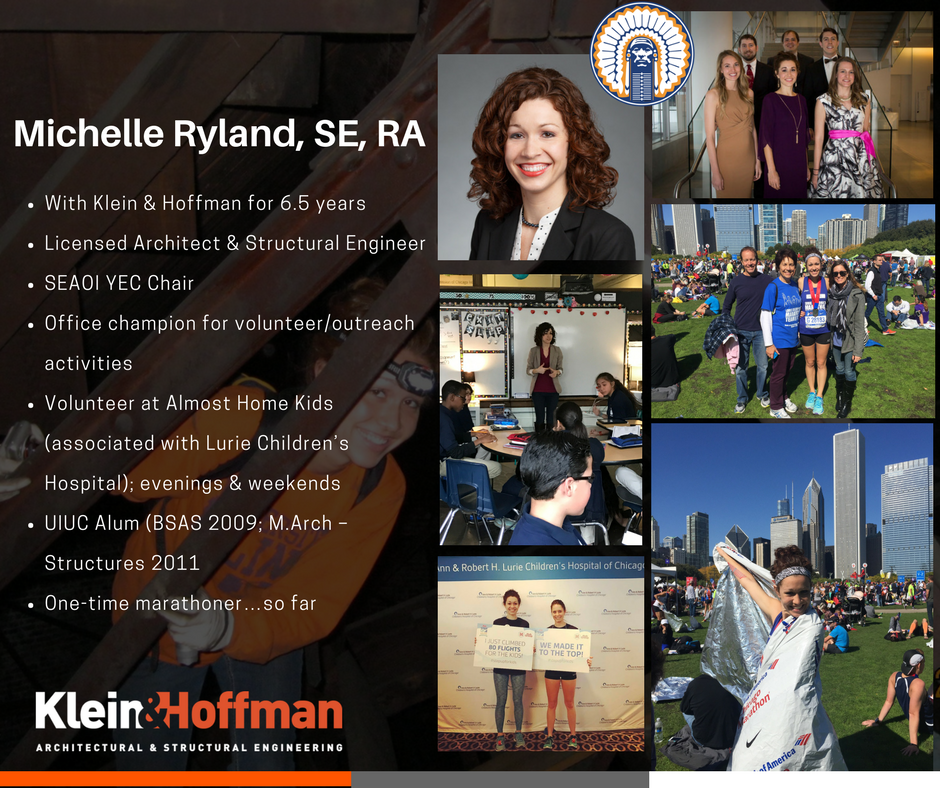 ---
K&H Kicks Off 2018 with New Promotions!
January 9, 2018
K&H has been going full steam ahead with the recent remodel, rebranding and new face for our office. We, of course, could not grow and expand without our top-notch and hardworking team. We are pleased to announce recent promotions of some of our passionate members. Thank you so much for your hard work!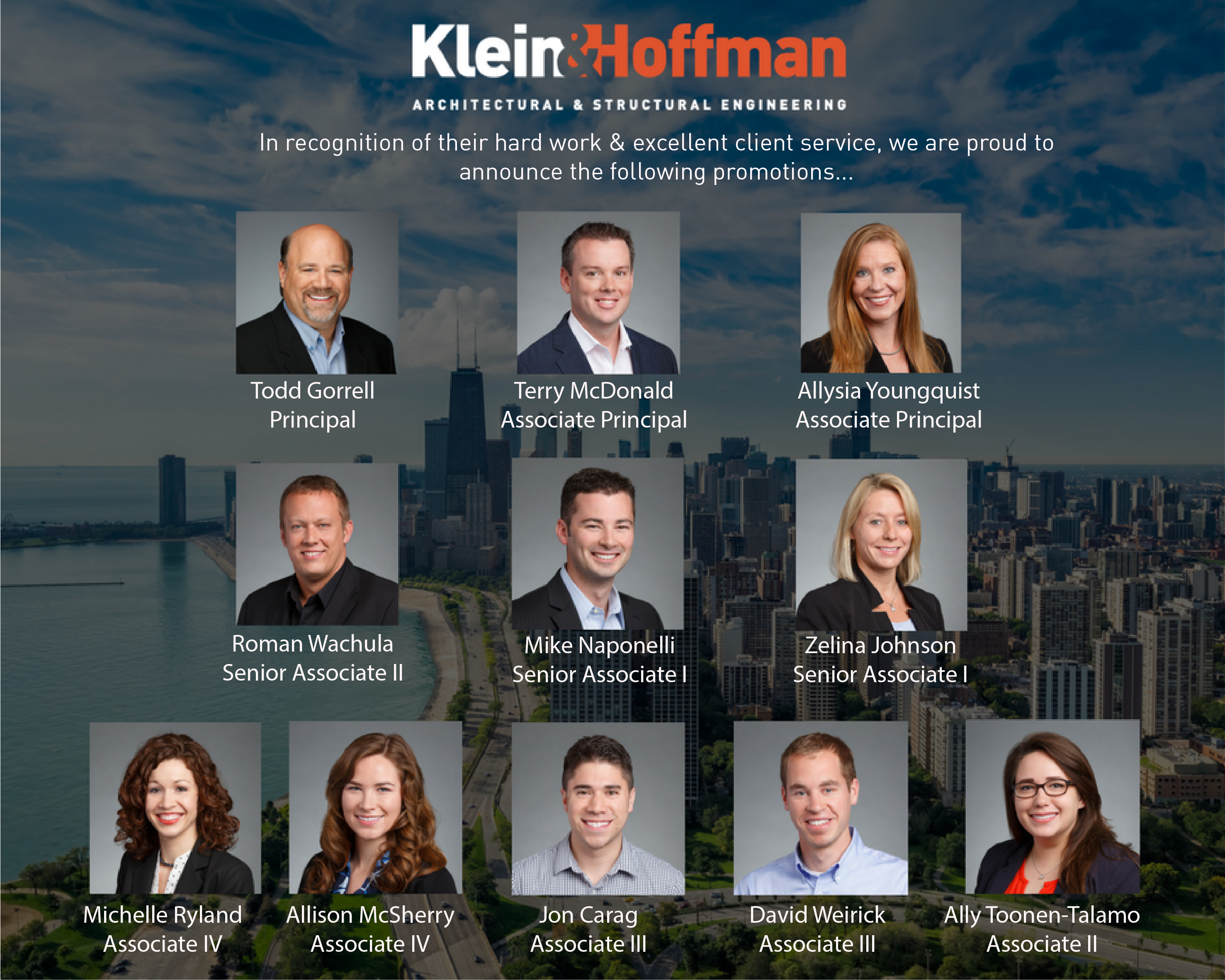 ---
Mike Naponelli Panelist at Condo Lifestyles State of the Industry Program
December 6, 2017
Mcd Media​ hosts the Condo Lifestyles State of the Industry Program tomorrow at the Chicago Cultural Center. K&H's Mike Naponelli joins the panel along with Kyle Baker, Sky Climber Access Solutions​; Michael Bonick, Kellermeyer Godfryt Hart, P.C.​; Brian Butler, FirstService Residential Illinois​; Howard Dakoff, Levenfeld Pearlstein​; Ian Novak, Draper and Kramer, Incorporated; Matt Panush, Worsek & Vihon PC; Phil Pritzker, The Habitat Company​; and Pete Santangelo, Community Advantage, A Wintrust Company.The panel will discuss current hot topics, trends & challenges in the industry including OSHA Facade Access Requirements, Current Capital Projects: Ventilation & Air Quality, Energy Efficiency, Riser Replacements, Windows & Roofing, Current Chicago Ordinance Issues (Airbnb, etc), and RFP's & Contracts. For more information, visit: bit.ly/2BNBpGU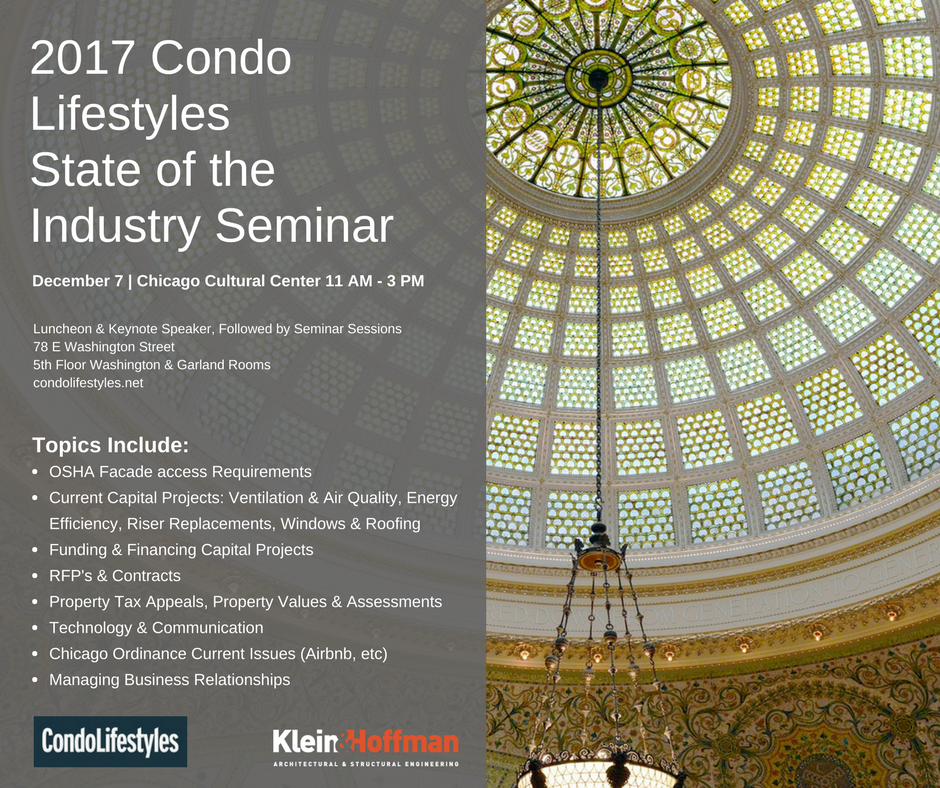 ---
Kathleen Strnad to Present at SEAOI Fall Prevention Seminar
December 6, 2017
Kathleen Strnad, Senior Associate I, will present 'Best Practices for Façade Related Inspections' at today's SEAOI Structural Engineers Association of Illinois Seminar – Fall Prevention: Protecting Those Preserving Chicago's Skyline. This half-day seminar will give insight into how structural engineers can best serve the community when it comes to inspections, assessments, and repairs/modifications for building facades, exposed metal structures, and façade access equipment. Attendees will earn 3 hours of CE credit. Visit http://bit.ly/2kxQrwg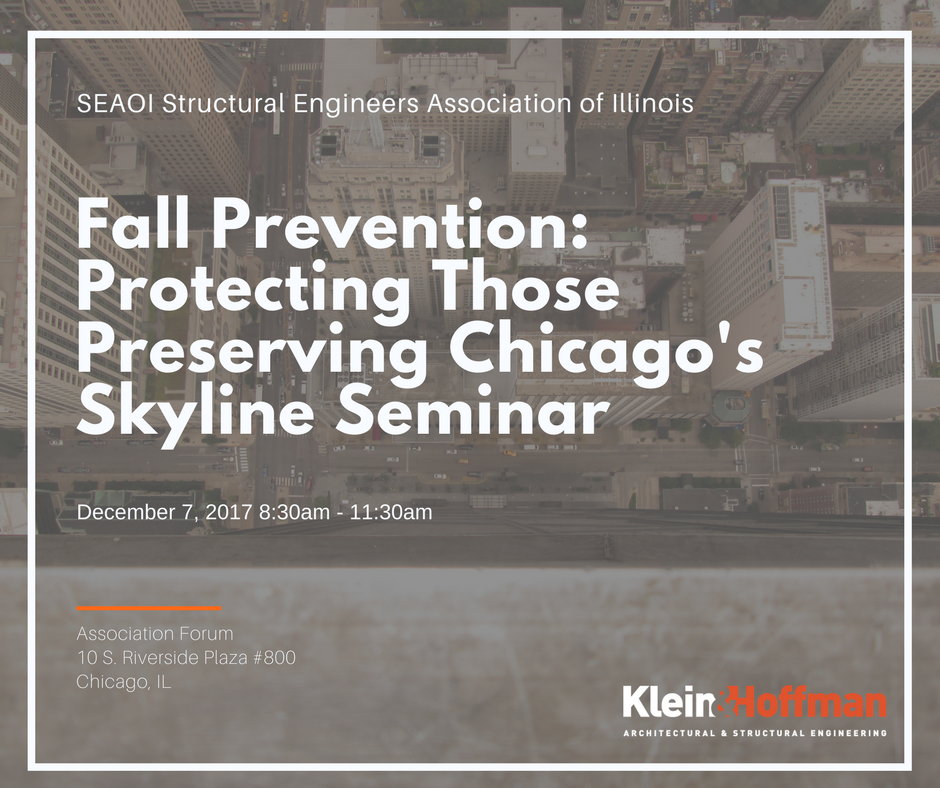 ---
Kyle Stanish Hosts Live Webinar with ACI
December 4, 2017
Kyle Stanish will host an ACI Live Webinar tomorrow afternoon titled, 'Selecting the Right Service Life Prediction Approach'. Kyle will discuss the importance of service life prediction approach in the design process and industry, the advantages and disadvantages of different service life prediction approaches and selecting the appropriate approach for specific projects. The webinar begins at 12pm CST; attendees will receive 1 CEU credit. ACI webinars are delivered by industry experts and feature popular concrete topics. The webinars and attendance certificates are administered through ACI University. They are also recorded for viewing at a later date. Both live and recorded versions offer continuing education credit. Click the link to register: http://bit.ly/2AX0uSk
---
2017 Skyline Social & National Trust PastForward Conference
November 21, 2017
Several K&H team members recently attended the 6th Annual Skyline Socialat the Revel Motor Row building, formally known as the Chicago Defender Building. K&H is a long-term sponsor for Landmarks Illinois and Skyline Council of Landmarks Illinois which is for a very good reason. Landmarks IL is one of our strongholds for the state in preservation and advocacy for our "hidden gems" and do a splendid job teaming up with other organizations to brain-storm alternate ideas for funding, networking, and providing professional assistance to buildings in need. The Skyline Social was a unique opportunity to welcome the National Trust for Historic Preservation to discuss the need to preserve our local and national landmarks. Two of our team members, Lauren Garvey and Chelsea Medek, not only won a scholarship but also attended the National Trust for the PastForward Conference Chicago! K&H would like to thank Landmarks IL and the Skyline Council for hosting a wonderful event and again opening your doors to unique structures around the city. View more pics on our FB Page!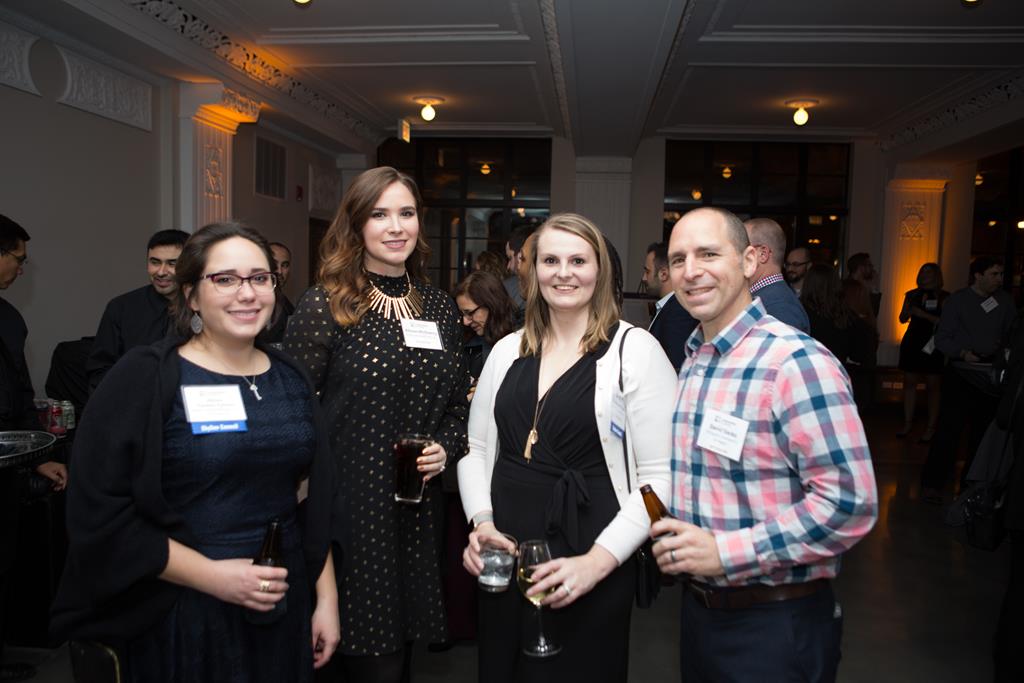 ---
K&H's Need for Speed at Chicago Race Factory
November 14, 2017
K&H burned some rubber Friday night by showing our need for speed on high-speed go-karts at the Chicago Race Factory. While some of us learned who to avoid on the road, we were all grateful no one started singing "Greased Lighting" during the night. Co-workers broke into five relay teams where individual drivers would race 15 laps before switching in the pit-stop with the next teammate. In the end, it was team Greased Lighting, who conveniently had the event coordinator, that took home first place. A big thank you to our office Fun Committee for coordinating the event, and everyone who came out to participate! "Why, this car is auto-matic. It's system-matic. Its hyyyyydro-matic. Why, it's greased lightning!"—Danny. Check out more pics here!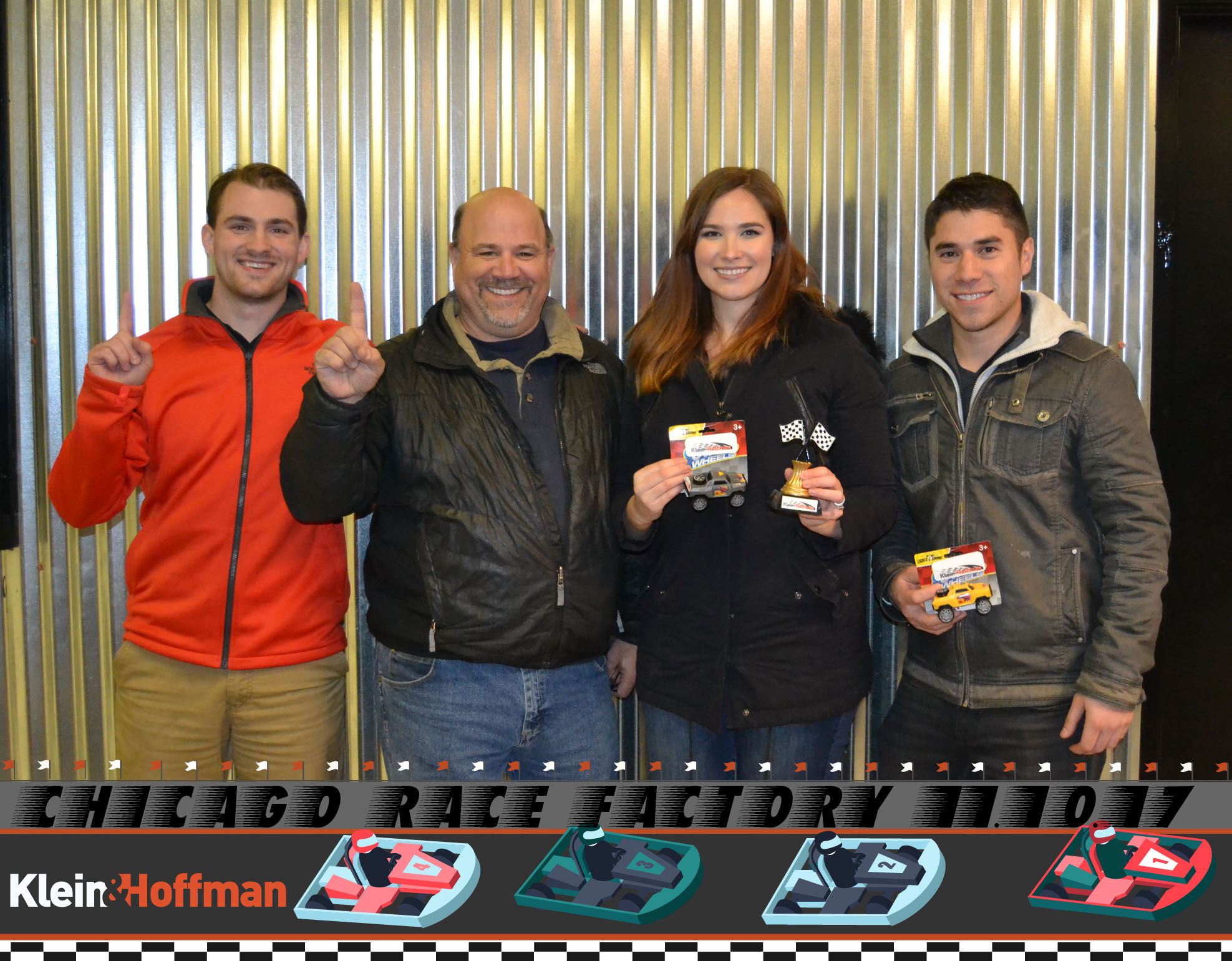 ---
Scott Compton Guest Lecturer at Community College of Philadelphia
October 27, 2017
Architecture, interior design, construction management, and facilities management students & faculty gathered at a public lecture October 25th to hear Scott Compton present "Building Life Cycle & Maintenance: Meeting the Challenges". The discussion focused on schools and educational facilities – highlighting the importance of proper planning during construction and the consideration of sustainability and durability of life cycle materials to protect investment and long-term operation. The lecture was held in the Architecture Design and Construction Department at the Community College of Philadelphia.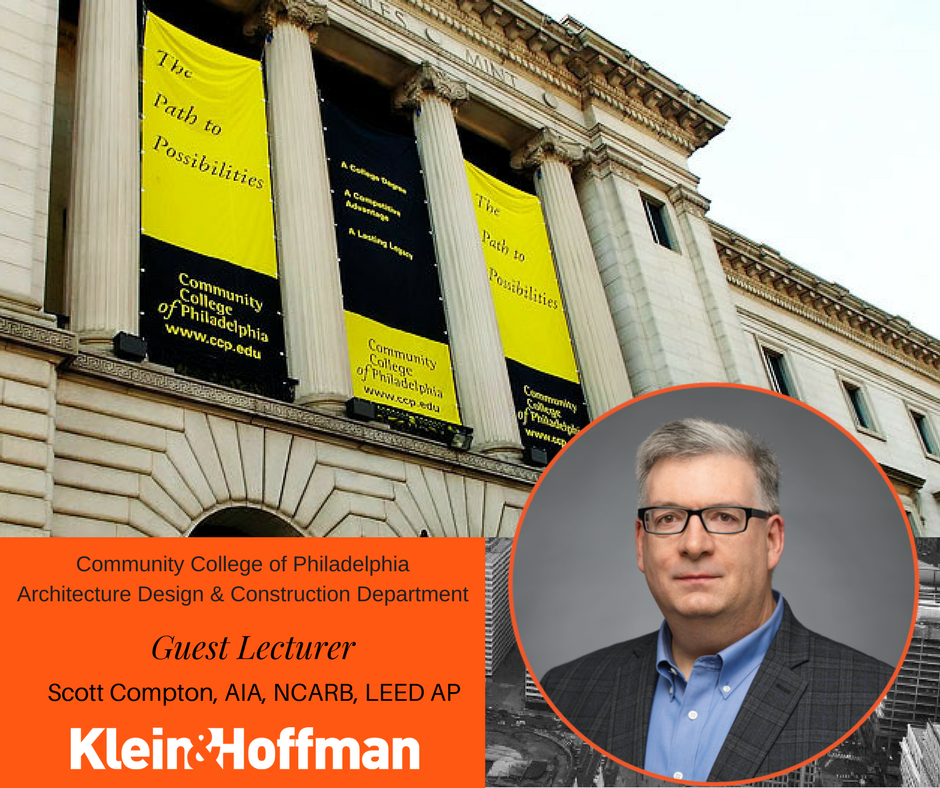 ---
AIA Pennsylvania 2017 Architectural Excellence Design Awards
October 25, 2017
We are Awards Excellence Sponsors for tonight's AIA Pennsylvania's 2017 Architectural Excellence Design Awards! Join AIA Pennsylvania to celebrate architectural excellence award recipients by logging on to their pre-produced awards documentary simulcast stream set to debut live starting TONIGHT at 6 pm. Click the link to register and view. https://aiapa.org/2017awardsbroadcast/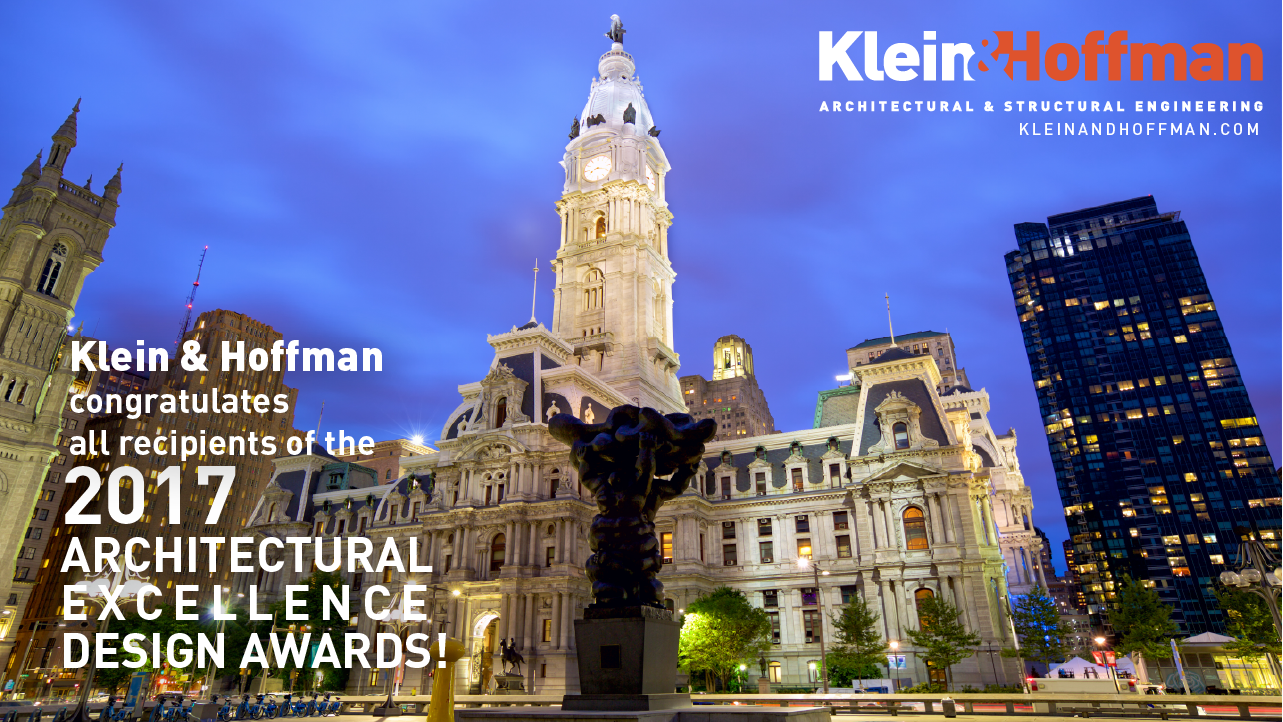 ---
K&H Welcomes
Illinois School of Architecture Students
October 20, 2017
The students from the Illinois School of Architecture's Chicago Studio [Architecture at Illinois] visited Klein and Hoffman's office today as part of their ARCH 593 Professional Development Course. Every week, the students and Professor Kevin Hinders visit a different architecture firm in Chicago to learn about each firm's approach to the building industry. After a presentation in the office in which the students were exposed to numerous case studies involving structural consulting at a Chicago aquarium and the technical aspects of concrete and masonry façade restoration, the students ventured on a site visit to Chicago's Union Station to see firsthand the various renovation projects currently under construction. View more photos on Facebook.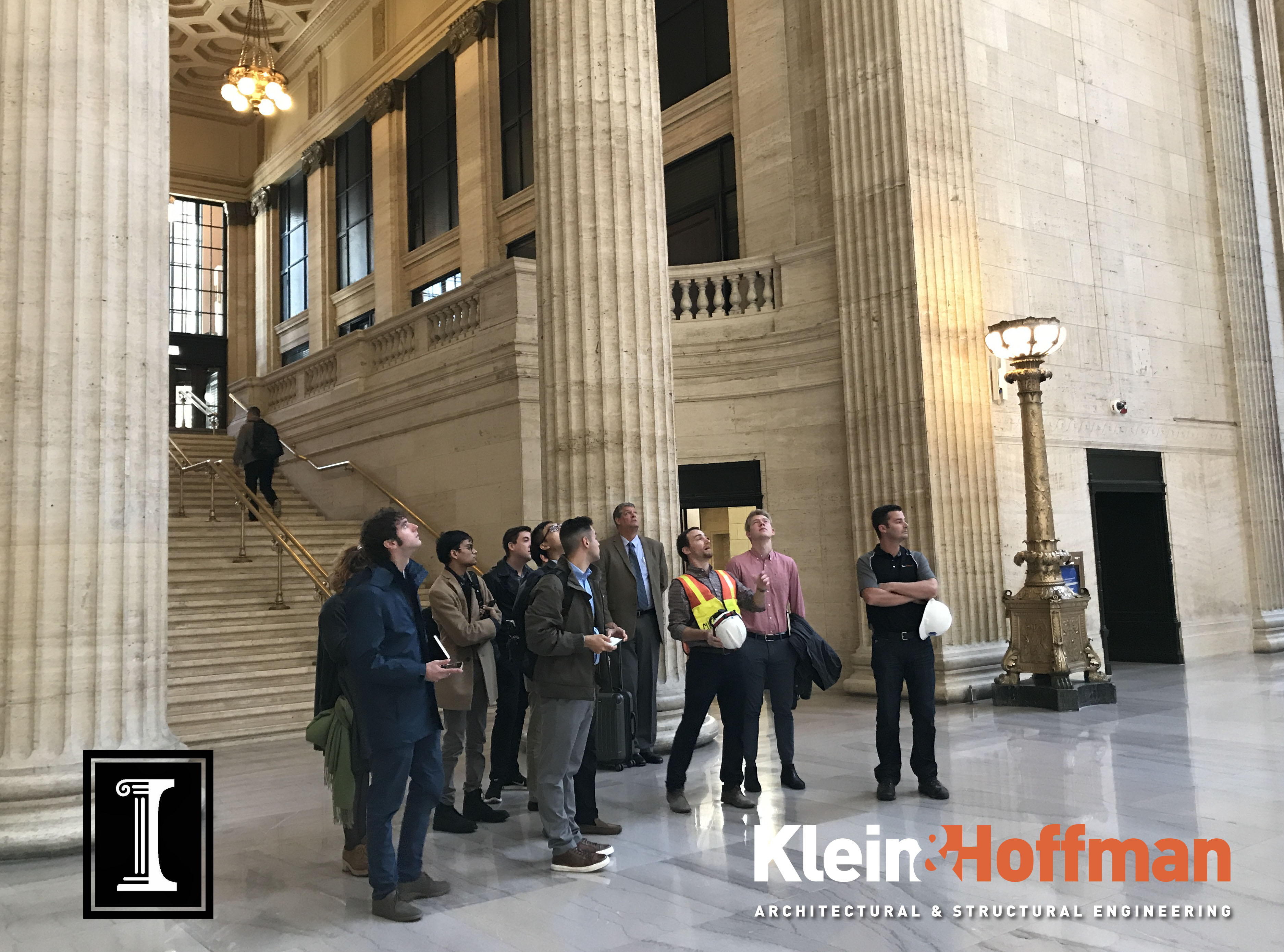 ---
Kyle Stanish Published in The Parking Professional Magazine
October 13, 2017
Parking structures are subjected to a harsh environment, and repairs will be necessary during their life affecting operations and users. The International Parking Institute recently published the following article written by K&H's Kyle Stanish in 'The Parking Professional' magazine. View this article on our Resources Page to read about some of the most common impacts and ways that the Owner, Consultant, and Contractor can mitigate the effects through creative planning & implementation before and during the repair program.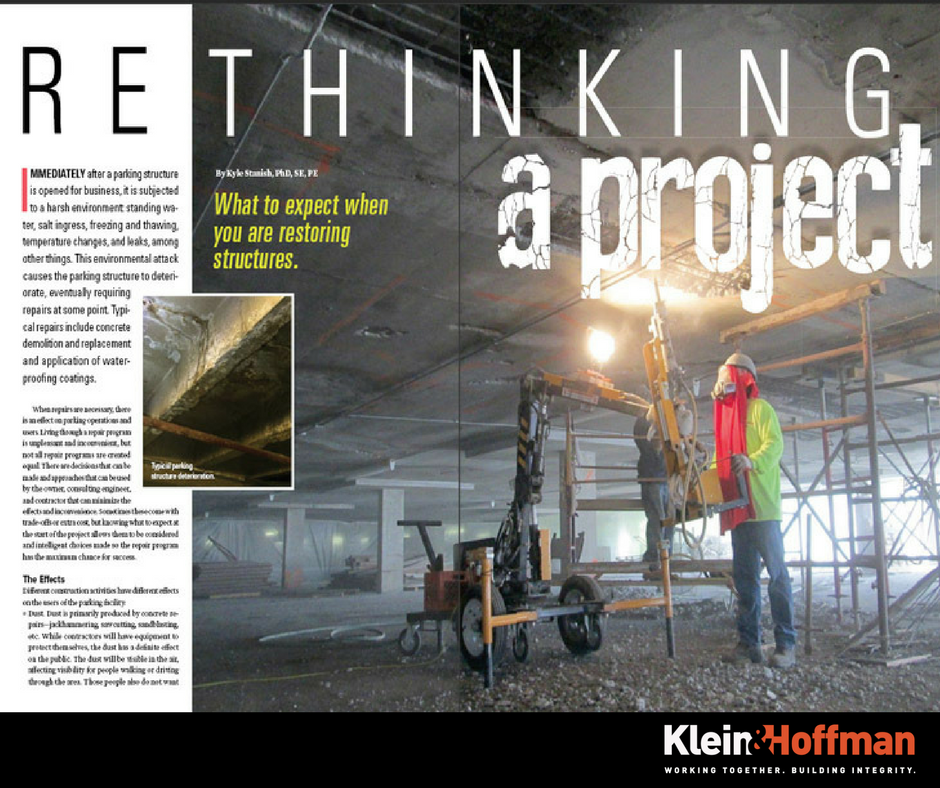 ---
K&H Partners with University of Chicago Charter School to Boost STEM Education
October 11, 2017
Our K&H Summer Internship Program was recently featured in Building Enclosure's online magazine. Read more about how our team created an environment where Interns, Sanii and Josh could learn what it takes to become an Architect or Structural Engineer, be introduced to the profession, and gain valuable hands-on project exposure.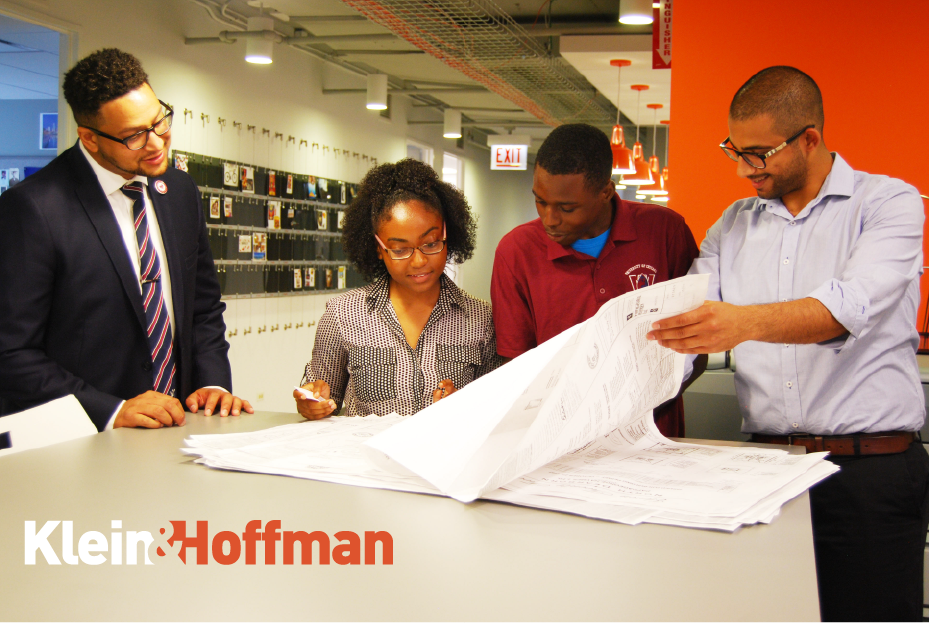 ---
K&H APT-WGLC Members Tour the Old Chicago Main Post Office Building
October 9, 2017
K&H members, Lauren Garvey, Chelsea Medek & Allison Toonen-Talamo attended the APT Western Great Lakes Chapter Old Chicago Main Post Office tour, Thursday, October 5th. The Old Chicago Main Post Office laid vacant for over 20 years, until recently; the entire facility is not only getting a new face-lift, but a second chance to be a central hub for businesses. APT-WGLC graciously provided a private tour taking tourists around various floors, explaining the history of the building and showcasing the new visions for the spaces. The final stop on the tour was admiring the recently restored main lobby of the Post Office. Visit our Facebook Page to view more photos from the tour!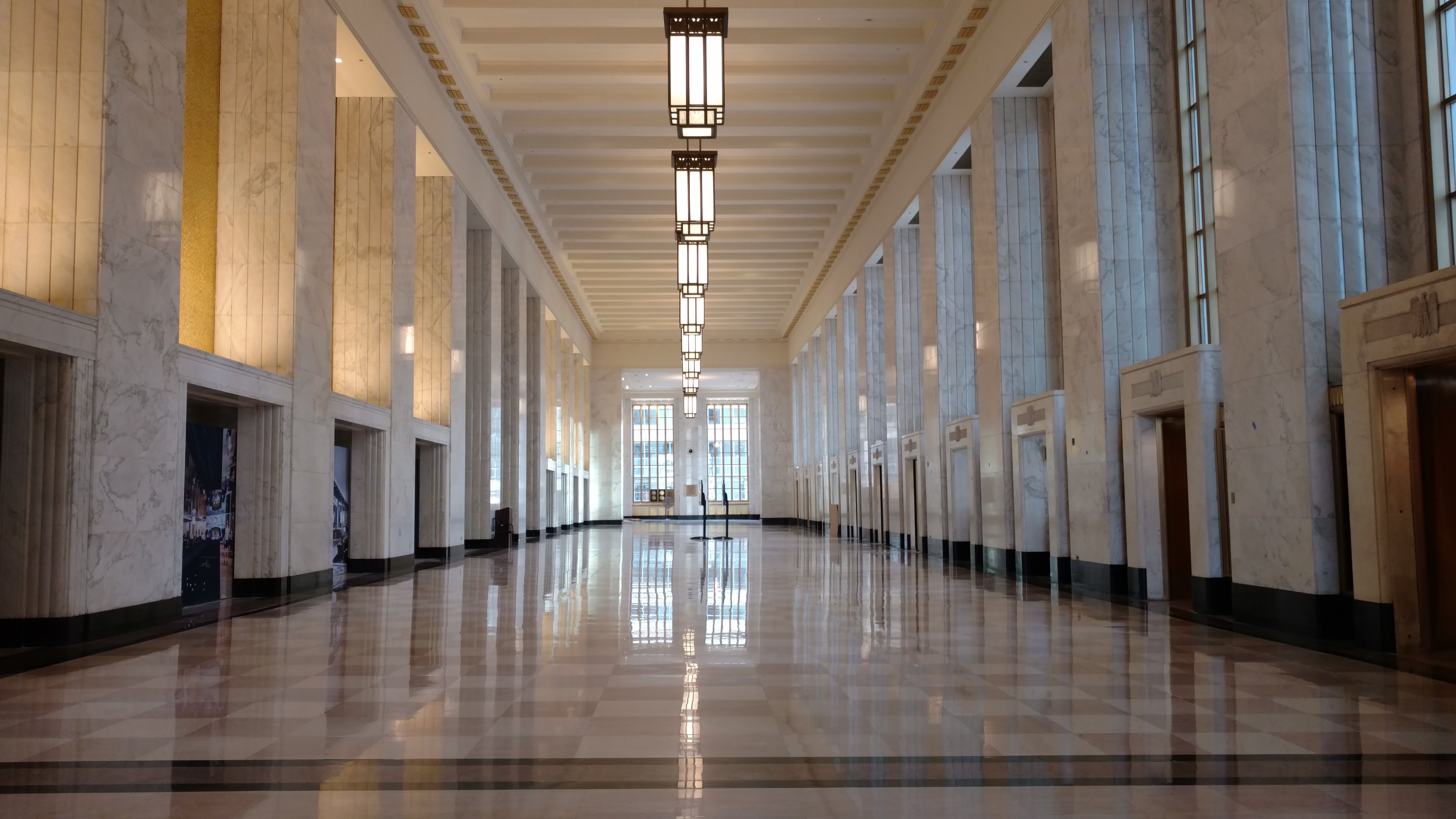 ---
Allison McSherry Hosts Illinois Energy Code Training Sessions
October 6, 2017
This month, starting October 11th, Allison McSherry will facilitate sessions for Illinois Energy Code Training "Trust but Verify: Understanding Energy Modeling Submissions". The half-day sessions (8:30am – Noon) will be held at different locations and those in attendance will receive free CEU's. Click the link to learn more about the program and training locations. http://bit.ly/2yNUXIQ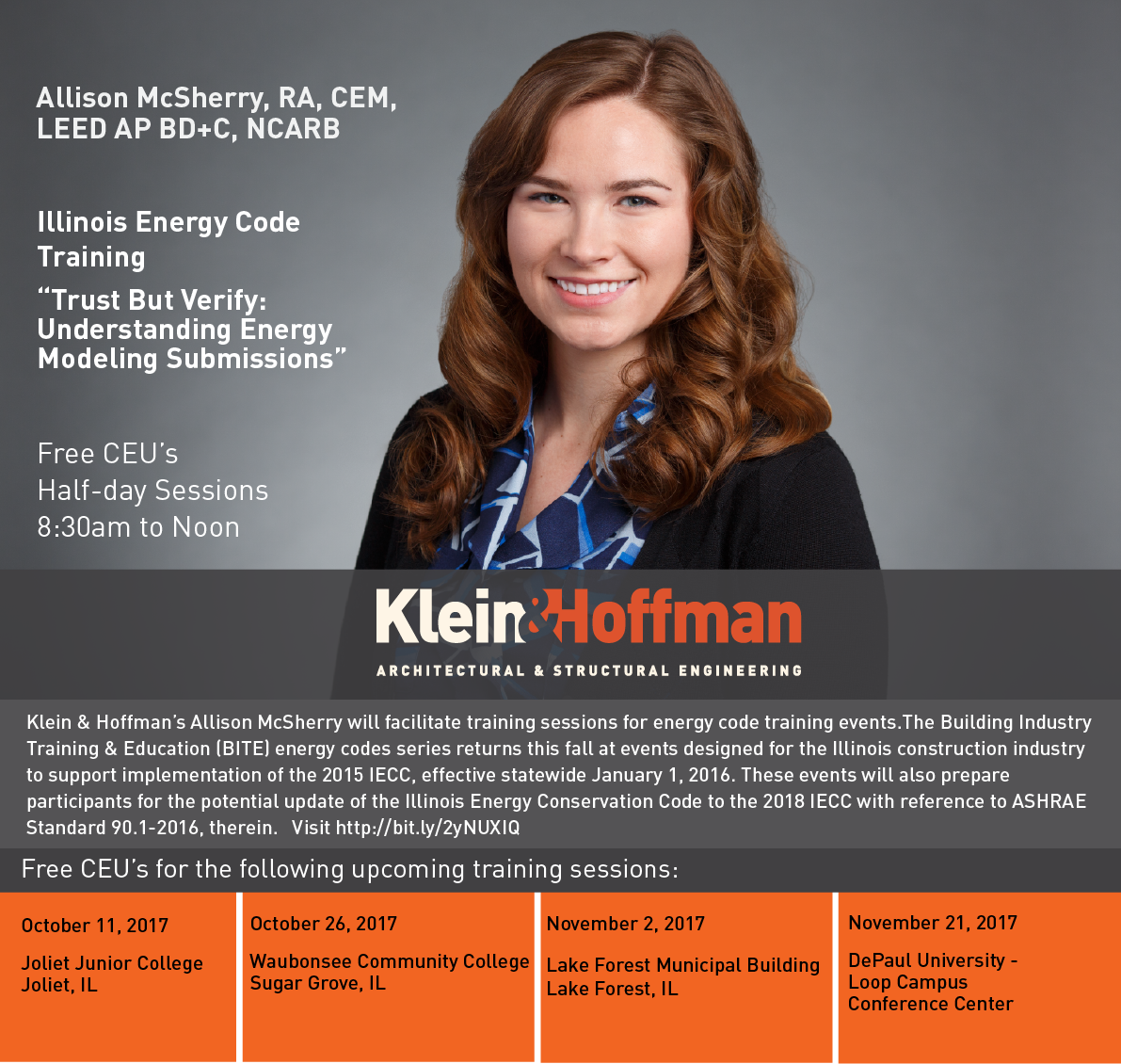 ---
K&H Team Members Present at the 19th Annual ALA Midwest Architecture Conference
September 29, 2017
Klein & Hoffman team members John Birazzi, Terry McDonald and Bill Ipema will be presenting during the education sessions at the Association of Licensed Architects, 19th Annual ALA Midwest Architecture Conference Oct. 3rd. Visit www.alatoday.org for more details.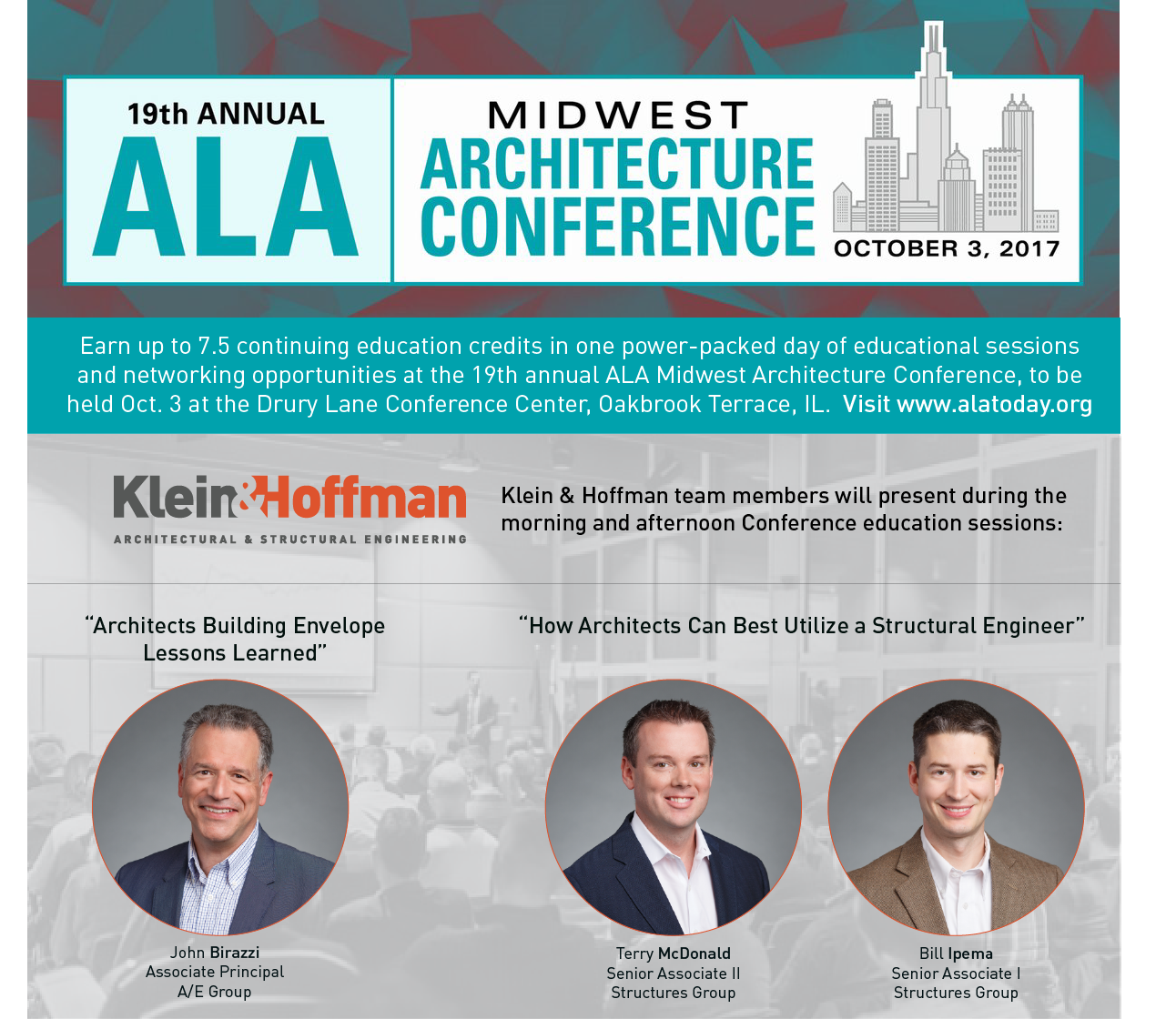 ---
Chicago Union Station Skylight Renovation Underway!
September 26, 2017
The Chicago Union Station Skylight Renovation is currently underway! Our team of architects and engineers are providing Structural and A/E services for the restoration of the skylight at the Great Hall alongside Goettsch Partners, Berglund Construction, and ESD (Environmental Systems Design, Inc.). The $22M project includes transparent, high-efficiency glass panes that will increase natural light into the historic Great Hall; new steel structural framing to support the new skylight system and access platforms, repair water damage to the roof; and will introduce a new drainage design and maintenance system to prevent leaks. Prior to design, an extensive investigation and structural analysis of the existing conditions was performed. Click here to read more about the project and view photos.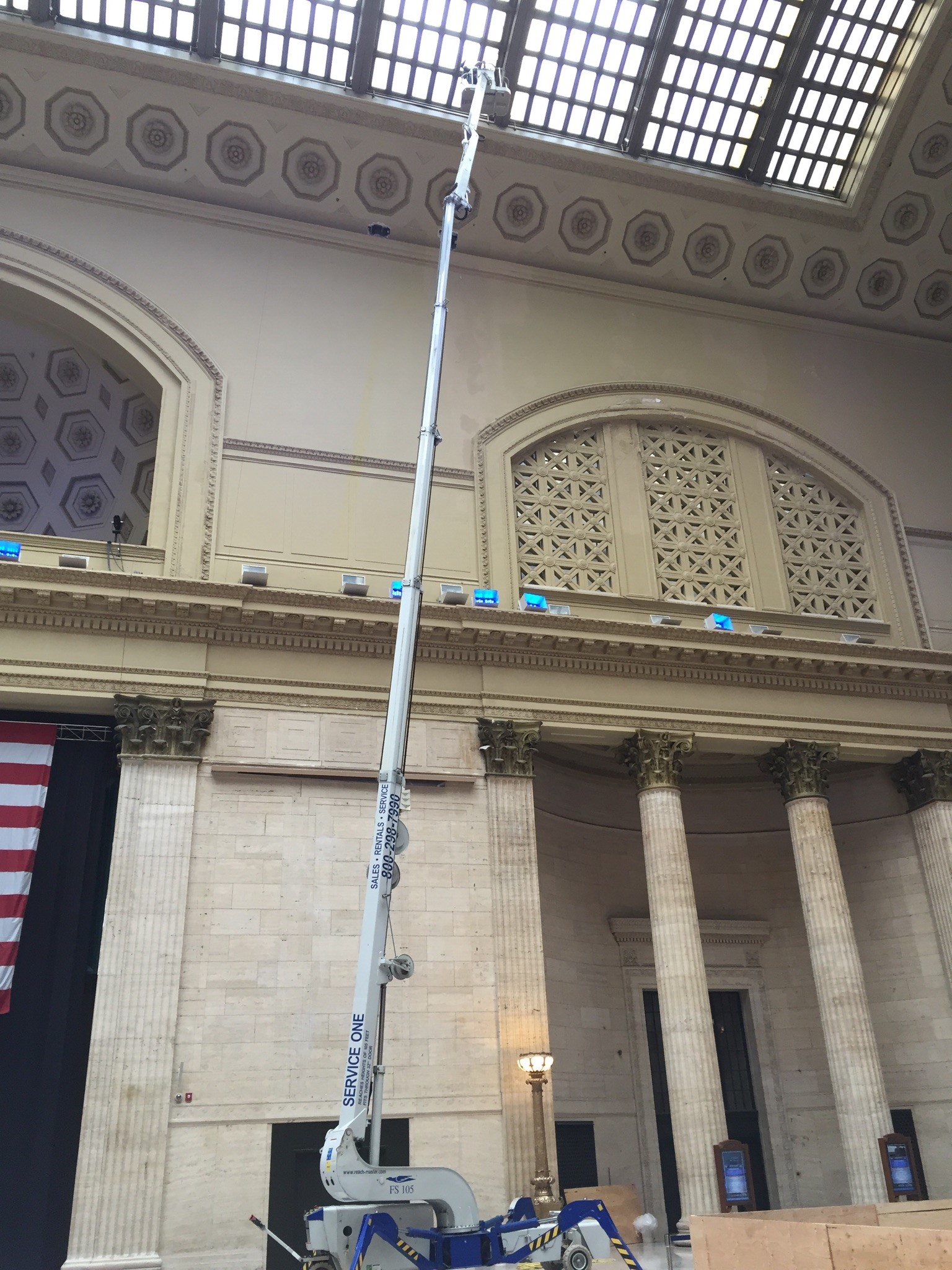 ---
Klein & Hoffman Welcomes Camille Loudenback!
September 25, 2017
Klein & Hoffman welcomes Camille Loudenback, Associate II to the Structural Engineering team! Camille received her Master of Science in Civil Engineering (Structural Engineering) and Bachelor of Science in Civil Engineering from Northeastern University, Boston, MA. Prior to joining K&H, she worked as an Engineer at GNCB Consulting Engineers in Old Saybrook, CT.  Fun Fact: Camille loves to travel! She has traveled to 30 States and 19 Countries on four Continents!
---
Rosenwald Courts receives Landmarks Illinois 2017 Richard H. Driehaus Preservation Award for Rehabilitation
September 19, 2017
Rosenwald Courts was the recipient of the Landmarks Illinois 2017 Richard H. Driehaus Preservation Award for Rehabilitation. Originally built in 1929 by former Sears, Roebuck & Co. President Julius Rosenwald at the request of educator Booker T. Washington, the development provided better housing for middle-class African Americans on the near south side; a 454-unit complex occupying an entire city block. Rosenwald Courts was once home to notable celebrities: singer Nat King Cole, playwright Lorraine Hansberry, musician Quincy Jones, boxing legend Joe Louis, and Olympian Jesse Owens. Our team attended the awards ceremony last Saturday to celebrate projects, organizations, and individuals who were honored. The project team for the Rosenwald Courts project included: Klein & Hoffman providing structural engineering and façade restoration services; Lightengale Group, Hooker DeJong, Inc., JJA, Inc., George Sollitt Construction Co., Powers & Sons Co., and Brown & Momen. The Klein & Hoffman team is proud of the positive impact preservation & rehabilitation has in improving and strengthening Chicago neighborhoods. Read more about our involvement with Rosenwald Courts. http://bit.ly/2hdg3gh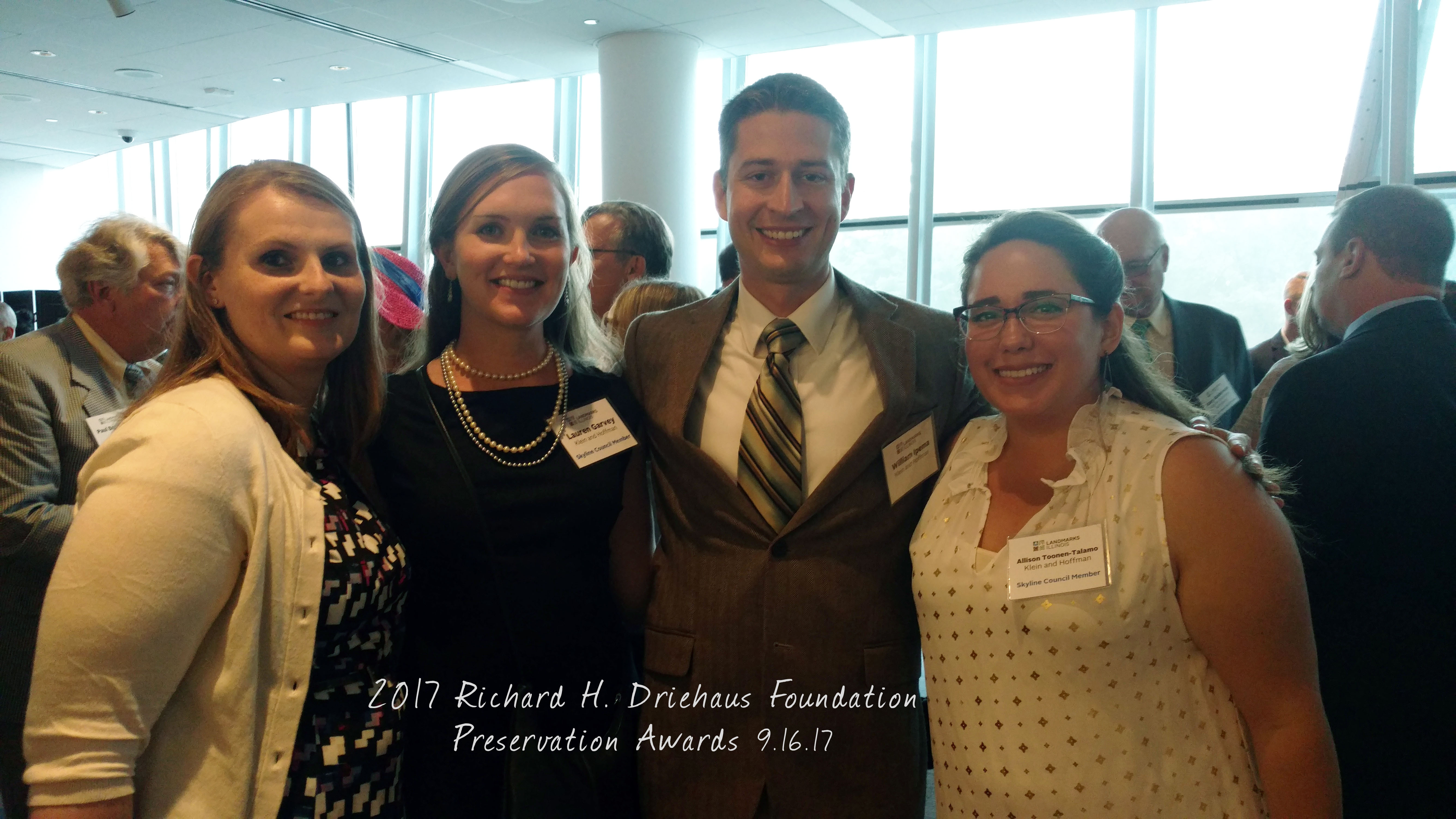 ---
Preservation Alliance of Greater Philadelphia – Preservation Rooftop Crawl
September 14, 2017
View pictures from Scott Compton during the Preservation Alliance for Greater Philadelphia's [sold-out] Preservation Rooftop Crawl event last night. Guests captured views from the roofs of two Preservation Achievement Award Winners: Developer Doug Jordan of Alterra Property Group described The Versailles – an elegant 1921 high-rise, Beaux Arts jewel designed by Frederick Webber, that was renovated for modern residences; and Architect Kevin Michals, of Cross Properties, Inc., spoke about the Art Deco tower named The Icon's history and conversion to luxury apartments, which contains some of Philly's finest early modern interiors. The Icon was the one-time home of Joseph Pew, founder of Sun Oil (Sunoco).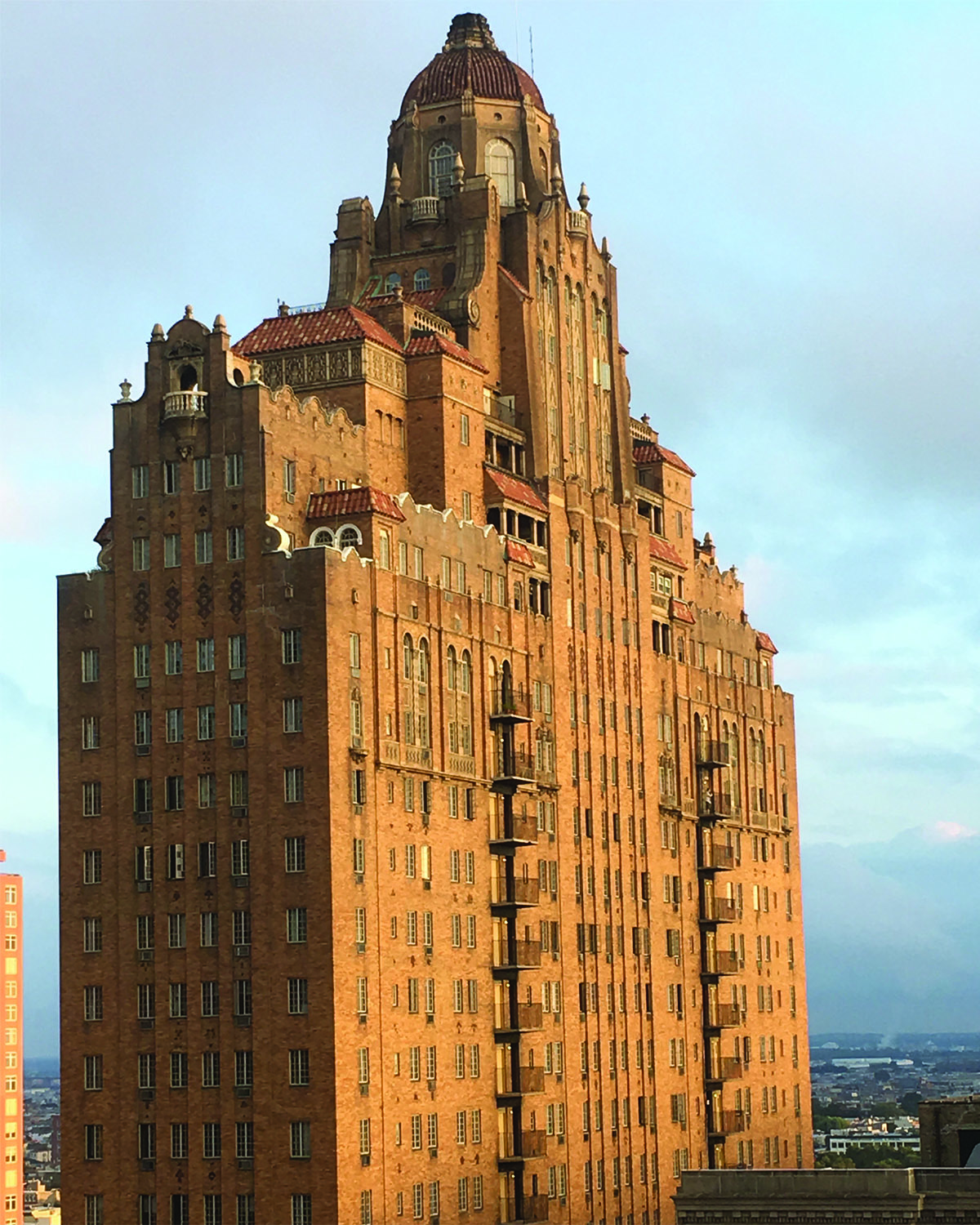 ---
Peter Power Presents at the 2017 ACTHA Conference
September 8, 2017
K&H's Peter Power, RA & Principal will present with Janice Avery, Property Manager w/ FirstService Residential Illinois at the September 2017 ACTHA Conference. Pete and Janice will discuss "Major Projects: Strategies to Control Costs", and share effective strategies to keep projects within budget and without headaches! The role of a project manager and the importance of specifications will also be discussed. View the event below for more details.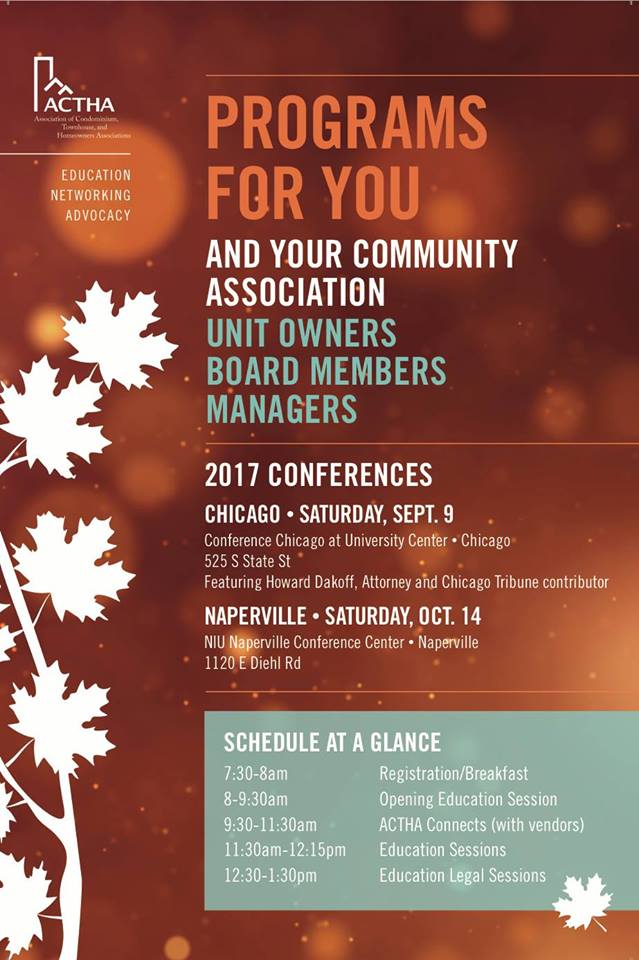 ---
K&H's Allison Toonen-Talamo Talks 'Millennials in Preservation' during APT WGLC Pecha Kucha Night Event
August 31, 2017
Last night, APT Western Great Lakes Chapter (APT WGLC) hosted Pecha Kucha night, with presentations on a variety of preservation related topics representing many perspectives. Pecha Kucha presentations are 20 slides total with a set time of 20 seconds per slide. The format makes for interesting, quick hitting presentations. K&H Associate I & APT WGLC Member, Allison Toonen-Talamo delivered a presentation titled 'Millennials in Preservation' which included statistics on college graduates entering the industry, the importance of hands-on applications & exposure to the work environment in the field, and examples of enhanced landmark buildings after rehabilitation and its impact & utilization in the communities. David Sacks, VP of APT hosted the event. Other presentations included Neal Vogel, Mike Jackson, Krista Gnatt (Western Specialty Contractors), Kim Lis (WJE), Susan Turner (Bailey Edward), Jeff Berglund (Berglund Construction), and Serge Ambrose.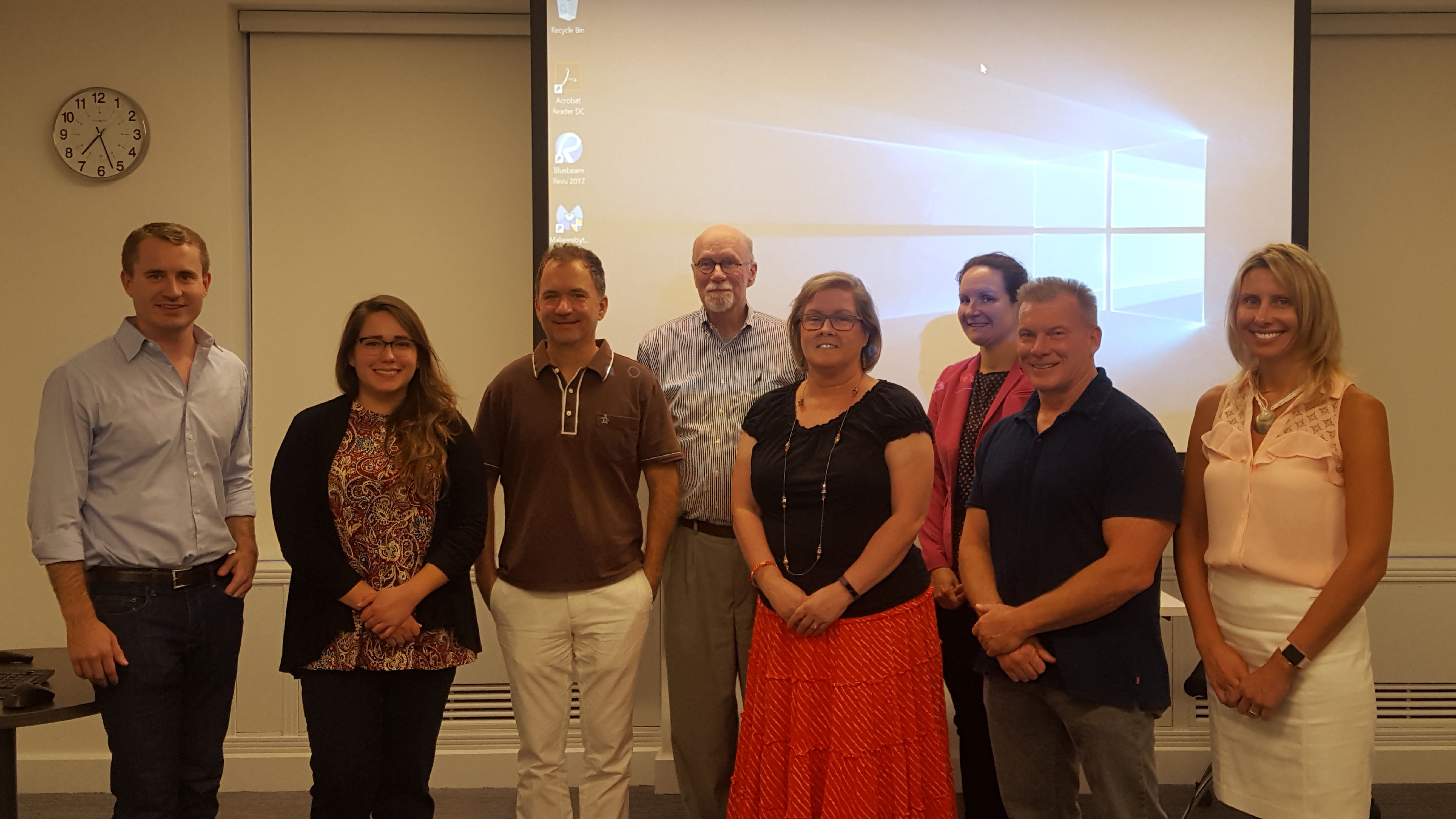 ---
CAI Illinois' – Aloha! Social at Navy Pier
August 31, 2017
The weather was perfect yesterday for sailing on the Spirit of Chicago with Community Associations Institute of Illinois members. Check out photos by K&H Senior Associate I, Rhocel Bon during the CAI Aloha! Summer Social event.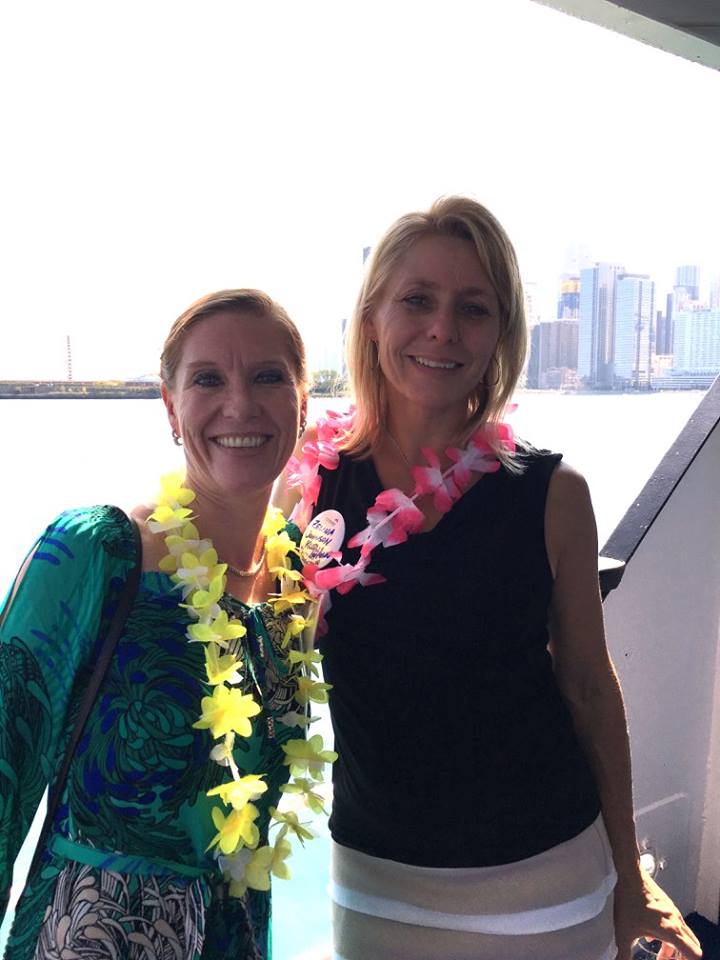 ---
K&H + University of Chicago Charter School's – Woodlawn Campus
August 17, 2017
Klein & Hoffman partnered with the University of Chicago Charter School's-Woodlawn Campus to give High School students from the Southside Chicago community the opportunity to learn about professional careers within the areas of Science, Technology, Engineering, Architecture, and Mathematics (our version of STEAM).
Sanii Terry and Joshua Banks were the first to complete our K&H Summer Internship Program. Our team created an environment where Sanii and Josh could learn what it takes to become an Architect or Structural Engineer, be introduced to the profession, and gain valuable hands-on project exposure. The Program proved to be a profound experience both to K&H employees as well as the students. John Harris, Principal of a5 Inc., came out on Wednesday to interview Sanii & Josh on their last day. John also met Will Torres, Chief College Officer at UChicago Charter School, to learn more about the School's mission and program. As a bonus, we took the interns on the Chicago Architecture Boat Tour so they could get in-depth knowledge and amazing shots of iconic Chicago buildings. We look forward to a continued partnership and shaping the next generation of Architects and Engineers!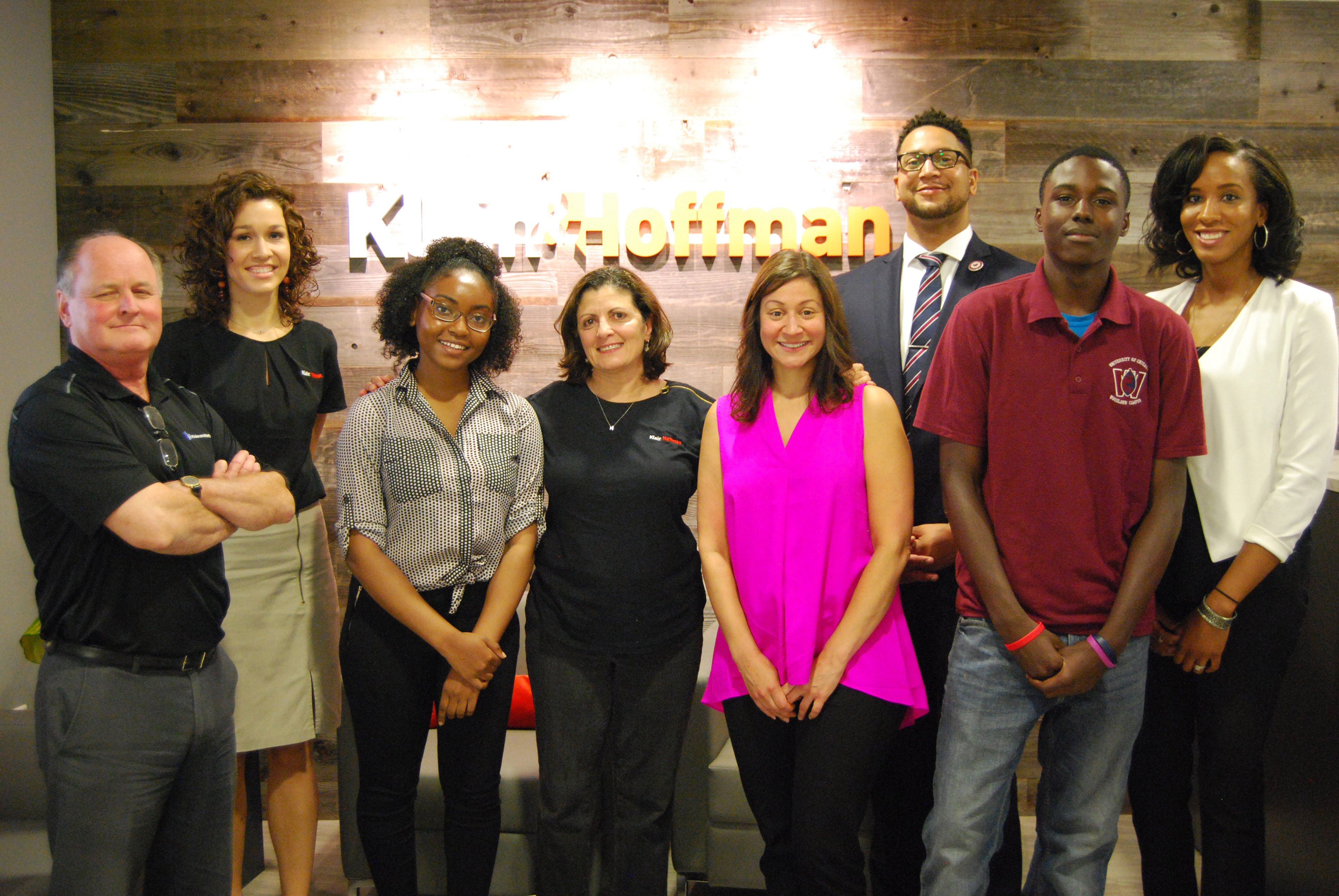 (Pictured: Jon Boyd, CEO; Michelle Ryland, Associate III; Sanii Terry, Intern; Homa Ghaemi, COO; Julie Burke, Human Resource Manager; Will Torres, Chief College Officer, UChicago Charter School; Joshua Banks, Intern; Alesha Shaw, Marketing Manager)
---
K&H Takes on the 2017 Warrior Dash
August 14, 2017
Members of the Klein & Hoffman team took on the 2017 Warrior Dash last Saturday; an event that consists of a 5k obstacle course with 12 word-class obstacles. The Warrior Dash takes place in multiple cities with over 3 million participants worldwide. The Organization is joined with St. Jude Children's Hospital to help fund and promote their facilities and research. The Klein & Hoffman team included: Zelina Johnson, Gavin Fleagle, Raquel and Chris Mojica, Jesse Trevino, and Jon Carag. It was a challenging but fun and rewarding experience that our team members plan on participating in through the coming years. View more images here.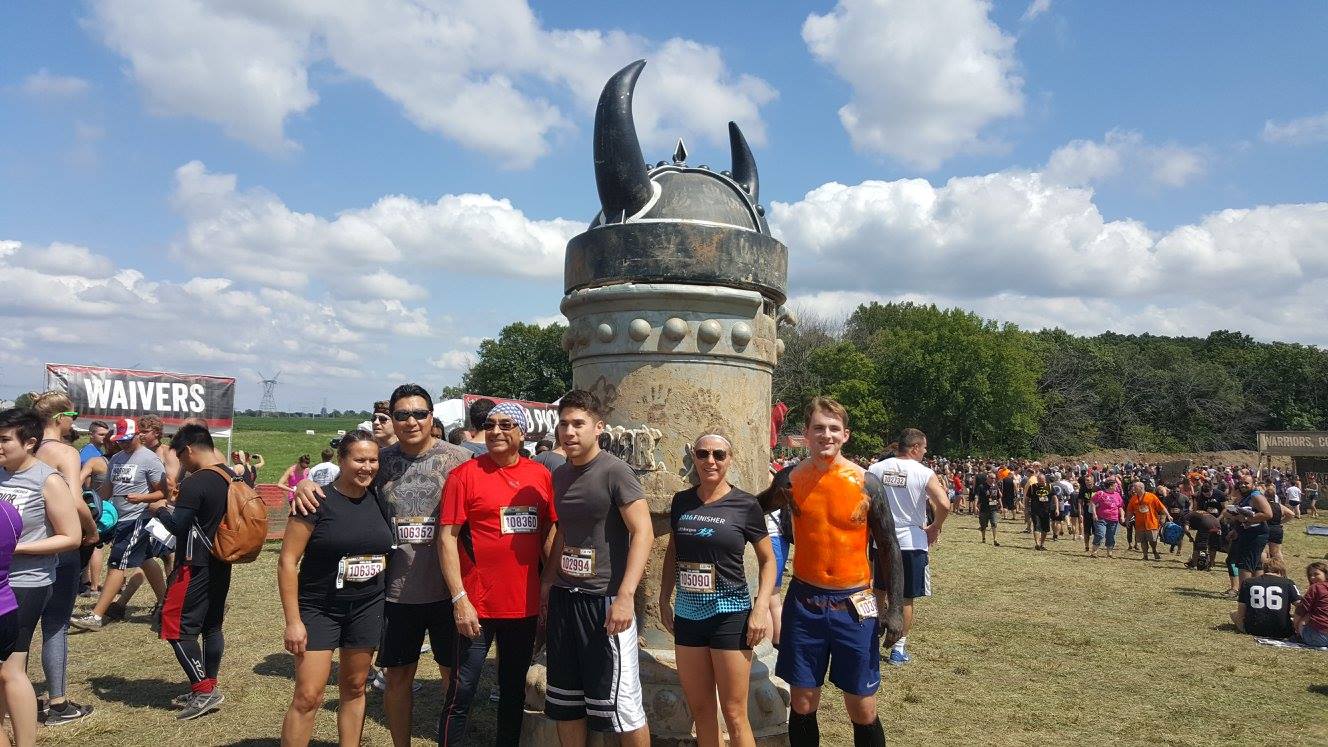 ---
AIA Pennsylvania President-Elect Scott Compton Panelist for Philadelphia Emerging Architects' Stories from an Architect Series
August 11, 2017
Join Philadelphia Emerging Architects Monday, August 14th for the August installment of their "Stories from an Architect" series. This month's focus is "Advocacy with AIA Pennsylvania." Klein & Hoffman's Scott Compton, who is also AIA President-Elect of AIA Pennsylvania, will serve as a panelist along with Bob Kelly, AIA President of AIA Pennsylvania; Jeff Pastva, AIA Treasurer of AIA Pennsylvania; and Christian Jordan, AIA Pennsylvania Young Architect Regional Director. Click here to learn more.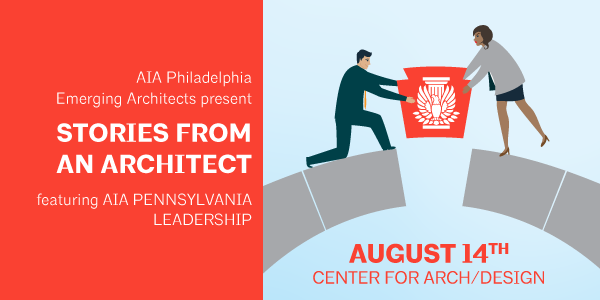 ---
Klein & Hoffman Exhibiting at the Chicagoland Property Management, Condo & HOA Expo
August 9, 2017
Klein & Hoffman is exhibiting at the Chicagoland Property Management, Condo & HOA Expo at the McCormick Center, today from 10AM to 3PM. Our experts are available to discuss restoration architectural and structural engineering services for Building Owners and Property Managers who are interested in building envelope solutions, structural engineering, and evaluation planning & project coordination. Since 1953, we have worked with building owners, campus and facility managers, condominium association boards and architectural firms, putting our client's best interests at the forefront. Stop by booth #603 to learn more!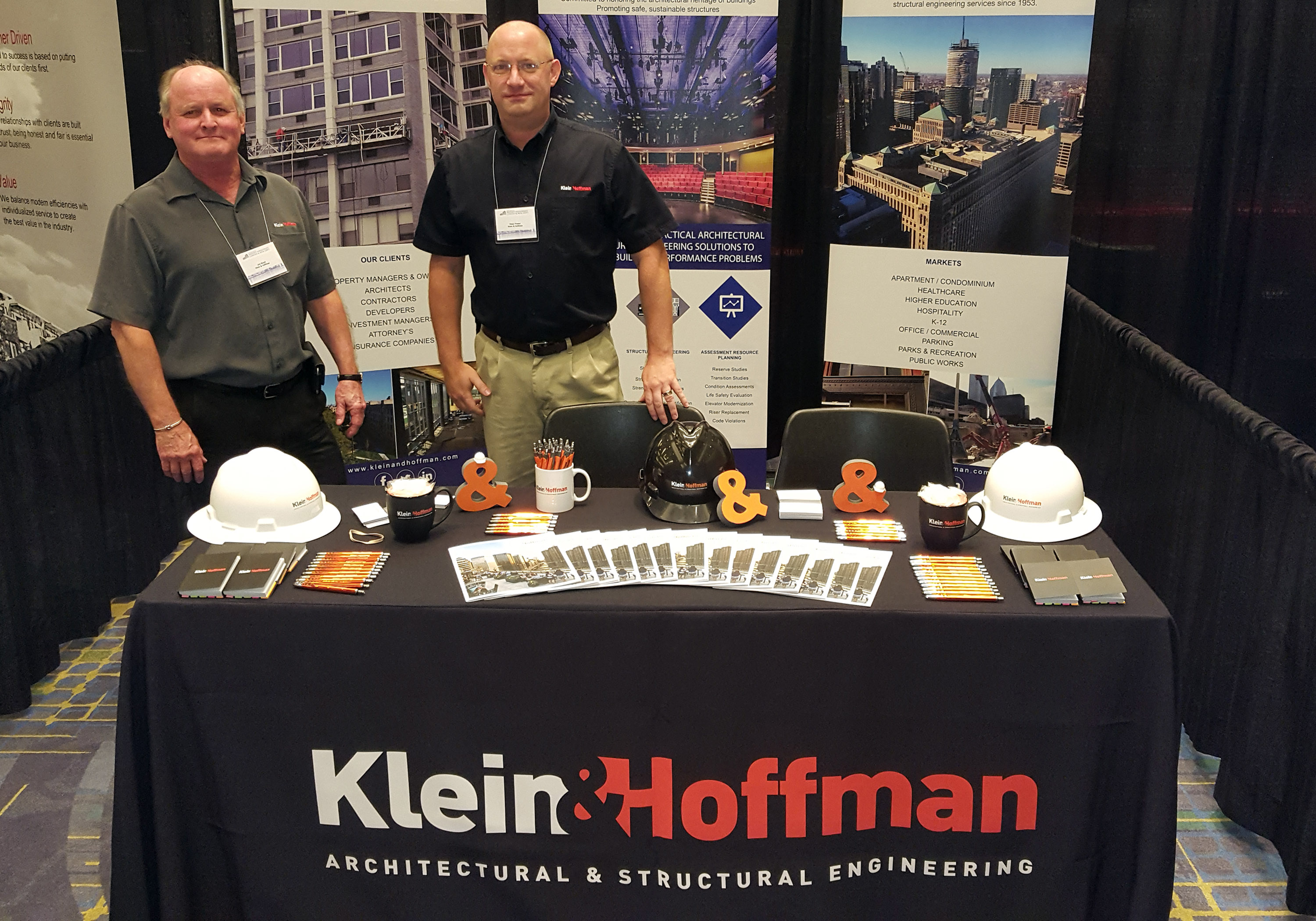 ---
Chicago-based Executives Share Insights on Building Chicagoland
July 31, 2017
Executives Jon Boyd, CEO (Klein and Hoffman), Michael Meagher, Senior VP (James McHugh Construction Co), and Adam Miller, President (Summit Design + Build, LLC), were recently featured in Crain's Chicago Roundtable Discussion. Click here to read about what these three experts have to say about what it takes to succeed in Chicago's competitive building environment.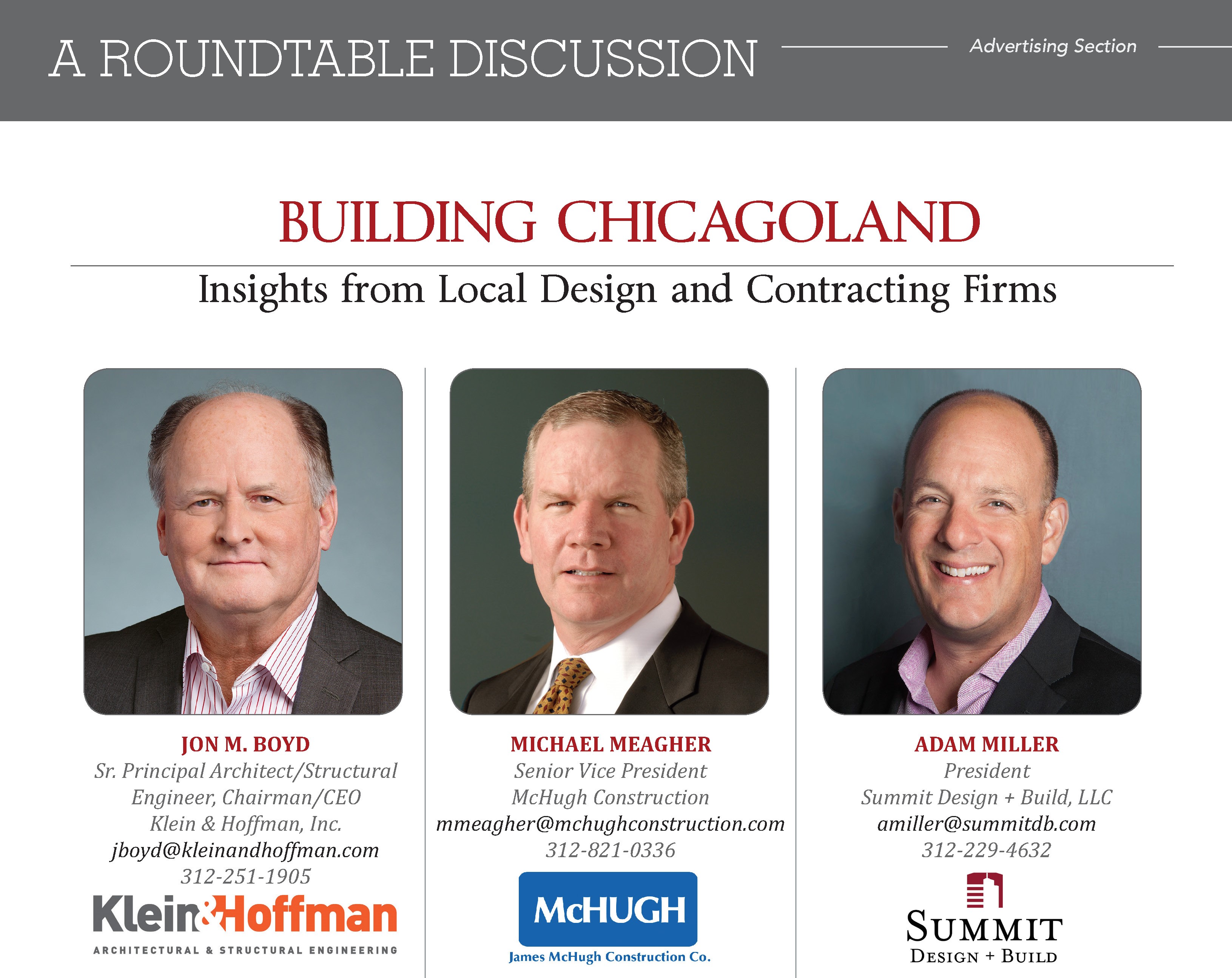 ---
K&H Annual Company Picnic
June 30, 2017
Our annual company picnic was a success! Our Fun Committee took the reins and did a great job planning such a fantastic event. We always enjoy seeing the faces that make up our K&H family. Thanks to everyone who came out; we had a blast and can't wait until next year. Good food, games and sunshine ruled the day – a perfect kick-start to Summer 2017! View our album via Facebook.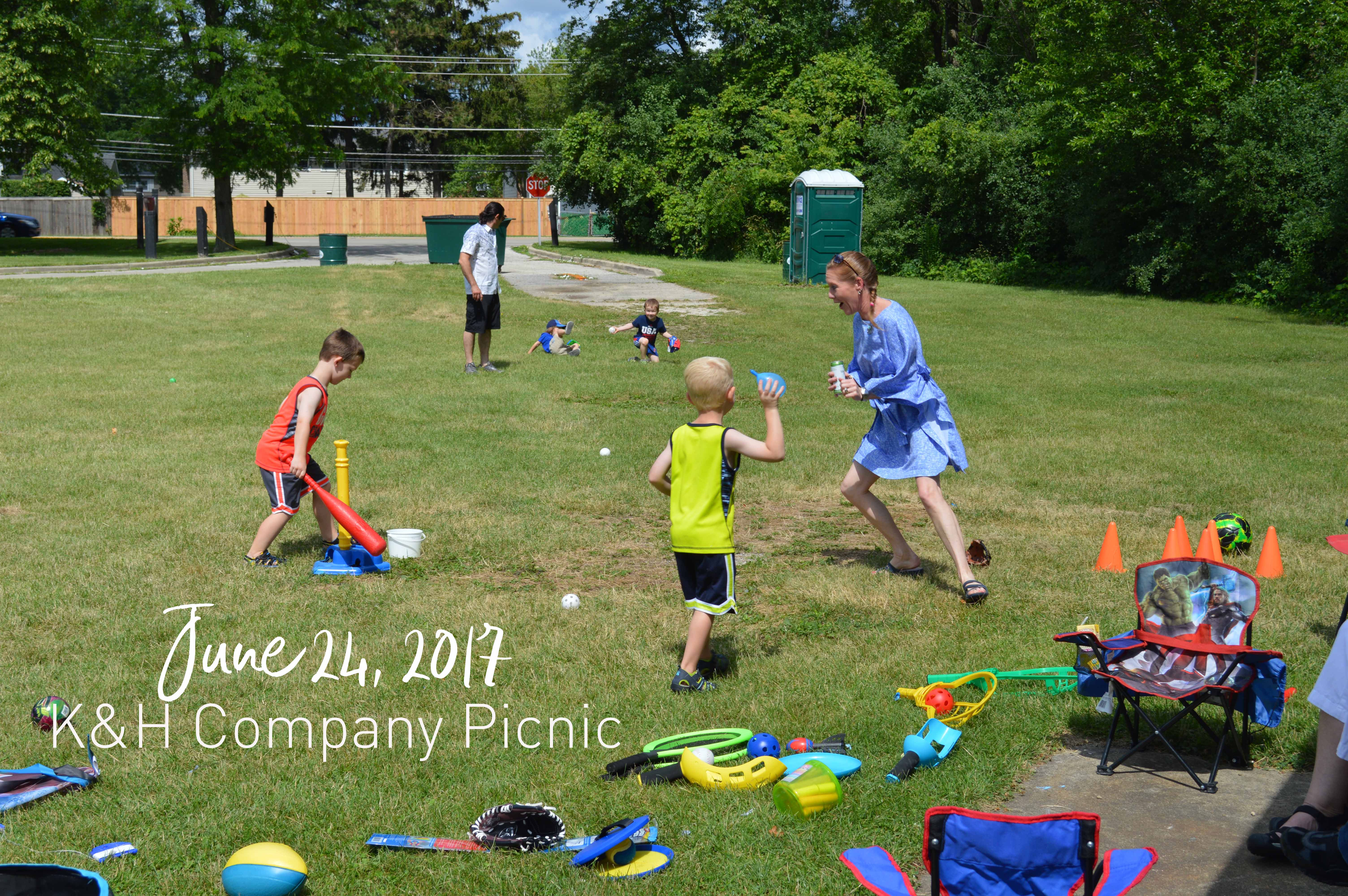 ---
K&H Welcomes Julie Burke!
June 23, 2017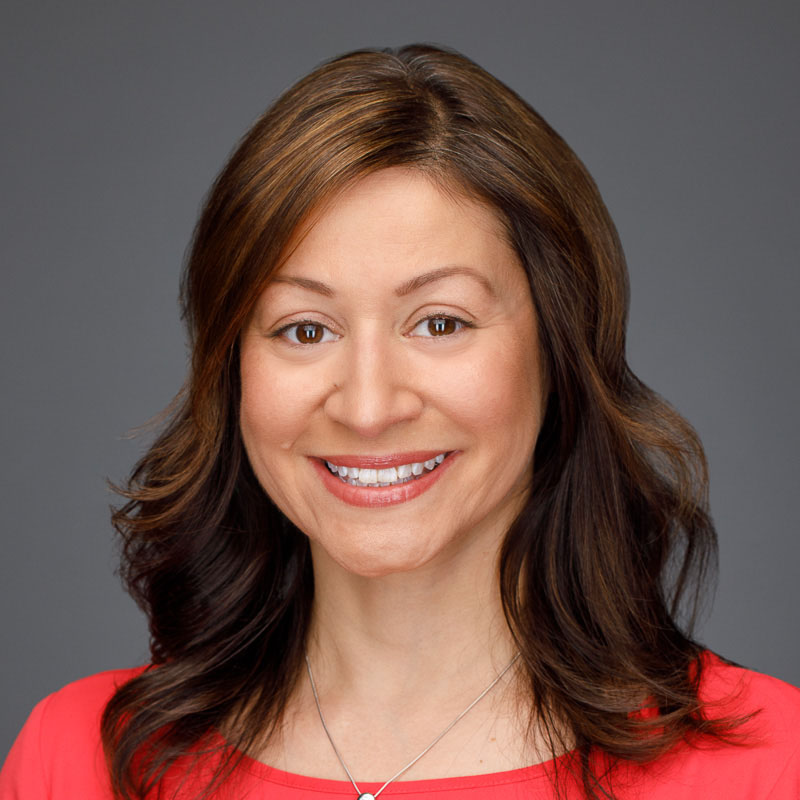 K&H welcomes Julie Burke, Human Resource Manager to the team! Julie has a Bachelor of Arts degree in Communications from Michigan State University and over 14 years Human Resources Management experience. Fun Fact: Julie has been a hospice volunteer for 15 years with Hospice of Michigan, S.E. Oakland County, and Midwest Palliative & Hospice Care Center. When not volunteering, she loves to go on International Yoga Retreats. Namaste!
---
Mercy Housing Lakefront celebrates the Opening of the Lofts on Arthington
June 22, 2017
Mercy Housing Lakefront recently celebrated the opening of the Lofts on Arthington. The 102-year-old building, now featuring 181 homes, was once part of Sears and Roebuck's original headquarters in Chicago's North Lawndale community. After the company withdrew from the neighborhood in the 1970s, the property and surrounding area fell into disrepair. The project team for this newly updated building included Klein & Hoffman providing Structural Engineering & Façade Rehabilitation services; architectural firm SCB, and Contractor, McHugh Construction. We are proud to share in the revitalization of this building while making a positive impact on a historic neighborhood in our hometown; click here to view the story & see how this new development is changing lives.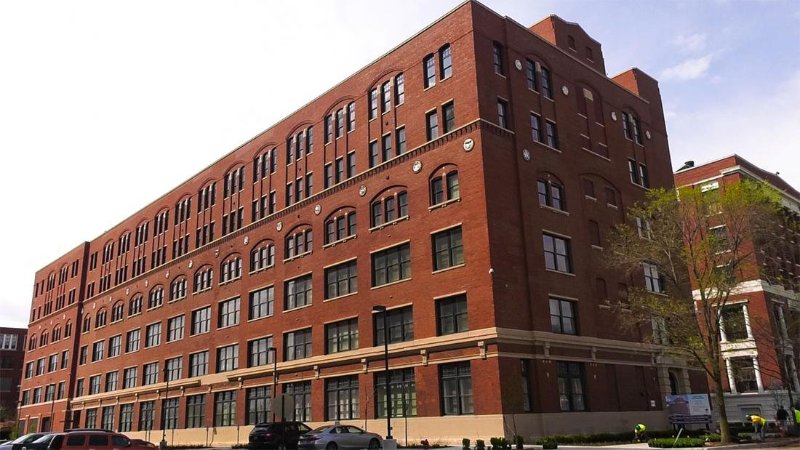 ---
K&H Welcomes Evan Austin!
June 21, 2017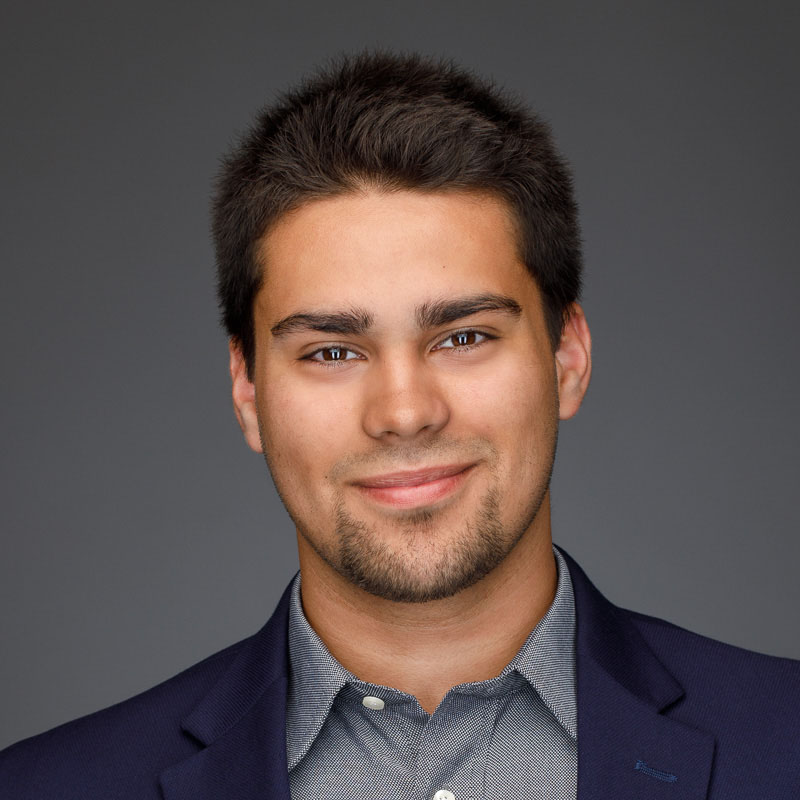 K&H welcomes Evan Austin, Associate I to the team! Evan recently graduated with a Bachelor's in Architecture from Illinois Institute of Technology and looks forward to gaining valuable experience with the hopes to pursue his R.A. license in the future.
Fun Fact: Evan is currently a Volunteer at the Shedd Aquarium and is taking classes to obtain his PADI certification to become a certified scuba diver. Ultimately he would like to take part in a research excursion off the continental ridge in Miami. Look out Jacques Cousteau!
---
K&H Celebrates Excellence with the Structural Engineering Association of Illinois (SEAOI)
June 20, 2017
The SEAOI Structural Engineers Association of Illinois (SEAOI) hosted its "Excellence in Structural Engineering Awards" celebrating the profession of Structural Engineering. Categories included were: Excellence in Structural Engineering Awards, John F. Parmer Award, SEAOI Service Award, and Outstanding Young Engineer Award. K&H's CEO Jon Boyd, R.A., S.E., served as a judge, COO Homa Ghaemi , S.E., P.E., was recognized as an incoming Director for the SEAOI Board, and Michelle Ryland, R.A., was recognized as a Co-Chair of the Young Engineers Committee. Congratulations to all winners! Click the link to view more photos from the event. (Andrew Breen, photographer) http://bit.ly/2s6EaQL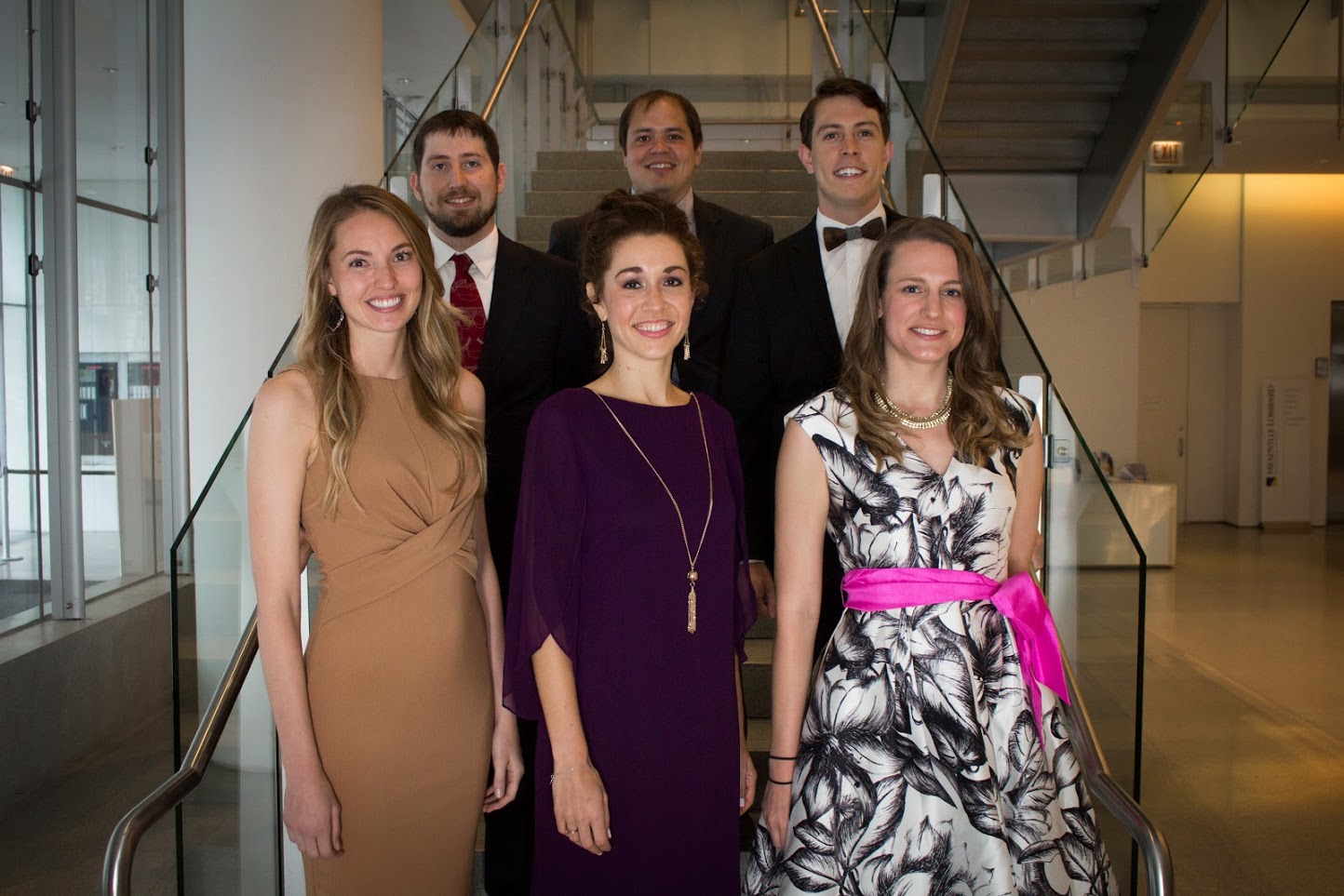 ---
Shedd Aquarium 'Voyages' Gala
June 19, 2017
K&H Senior Associate, Kathleen Strnad R.A., LEED AP, attended the Shedd Aquarium "Voyages' Gala this past Saturday. The Board of Trustees, co-chaired by Anna and Bob Livingston, welcomed guests to its spectacular Gala to benefit the Aquarium in support its commitment to protecting animals and their habitats around the world. A wonderful evening in Shedd's one-of-a-kind setting.
---
Klein & Hoffman Philadelphia Welcomes Samuel Marquez, AIA
June 15, 2017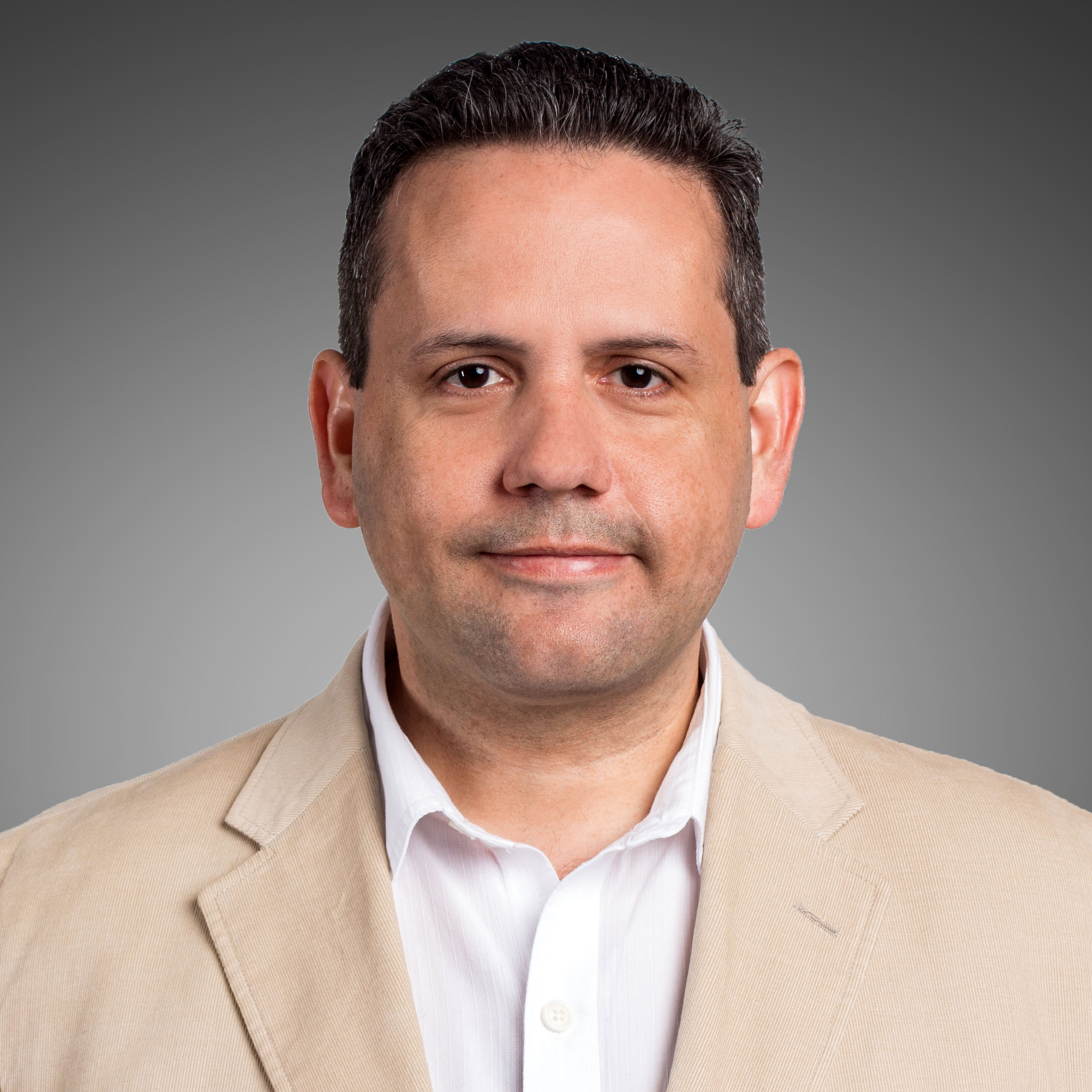 Klein & Hoffman is pleased to welcome Samuel E. Marquez, AIA, whose expertise in the architectural field will be an asset to East Coast clients from our Philadelphia office. Samuel's technical experience includes architecture design, urban design, interior design, project management, condition assessments and inspections. He obtained his Master's in Architecture from the Catholic University of America in Washington, D.C.
Fun Fact: Sam has an appreciation for structures of historical and religious significance. One of his favorite trips was when he visited Jerusalem, Israel and marveled over the city's urban fabric as well as the vast preservation of religious structures. Samuel loves to cook and travel with his beautiful family.
---
Klein & Hoffman Welcomes Summer Interns!
June 12, 2017
Klein & Hoffman is excited to welcome our talented summer interns! Alia Abu-Douleh recently graduated from the University of Illinois with her B.S. in Architectural Studies. Alia will be heading out east this fall to attend the University of Maryland to pursue her Master's in Architecture. Fun Fact: Alia has a twin sister who will be moving to Maryland with her. Alia and her sister saw Parent Trap and now like to play practical jokes on people by switching places. 
Amir Amirzadeh obtained his 2 Master degrees; M.Arch. and M.Sc. from the University of Illinois and is pursuing his Ph.D. in Architecture with a concentration in Building Science and Technology. Fun Fact: Amir is a self-taught master chef who loves grilling burgers and kabobs. His ultimate goal is to win Master Chef – look out Gordon Ramsey!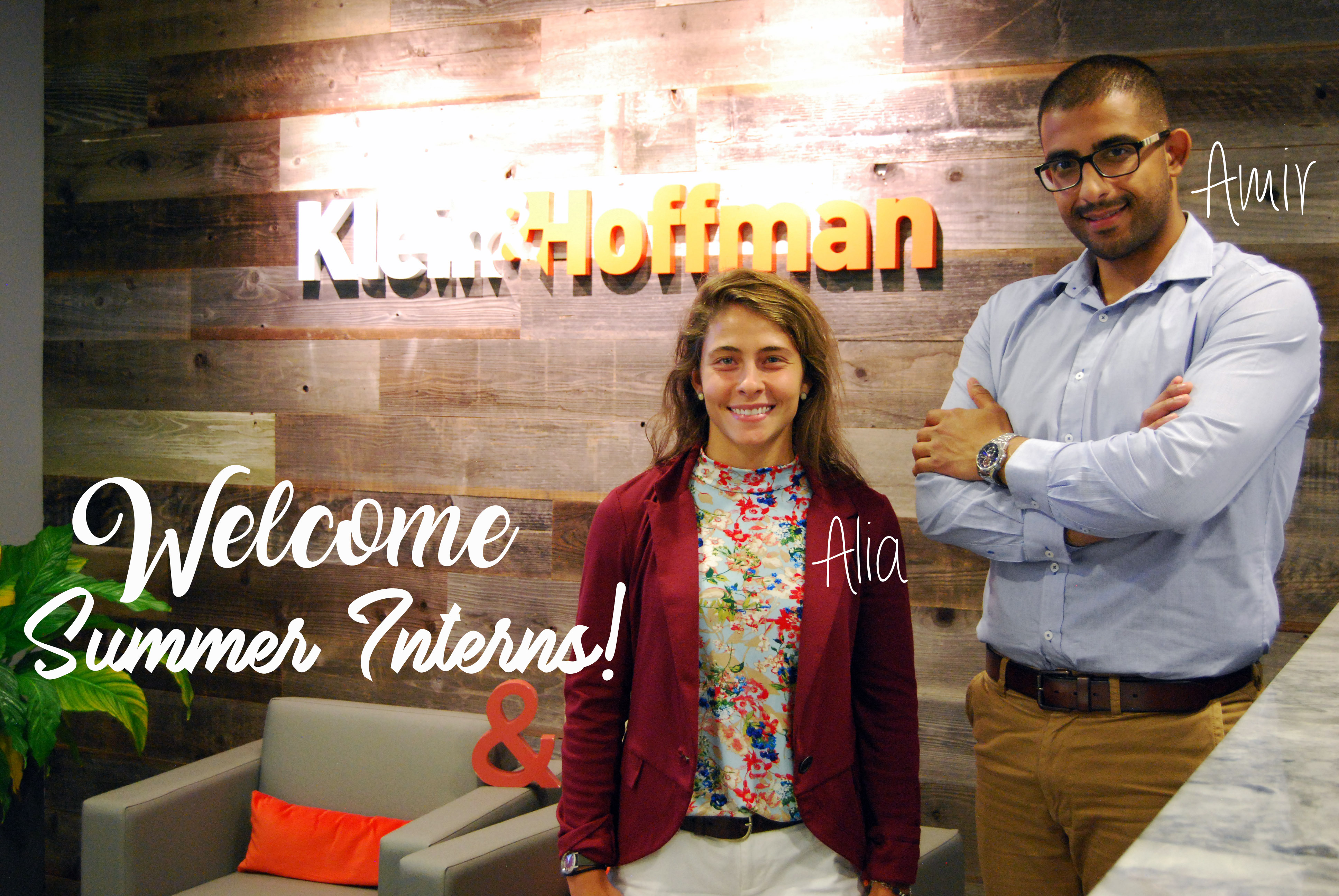 ---
Apex 41 Official Grand Opening & Ribbon Cutting Ceremony
June 9, 2017
Apex 41 recently celebrated with an official grand opening & ribbon cutting ceremony yesterday. Apex 41 is a new luxury apartment development of GlenStar Properties, LLC, and is located in the heart of the Yorktown shopping district in Lombard, Illinois. The 181-unit was constructed in a podium design with a five-story metal-framed residential component atop a two-story, 242-vehicle parking deck. Klein & Hoffman provided structural engineering services for the new design and worked with the design team to explore framing options for the residential and parking portions of the project. Read more about our involvement here: http://bit.ly/2reiChl (photos courtesy of McShane Construction)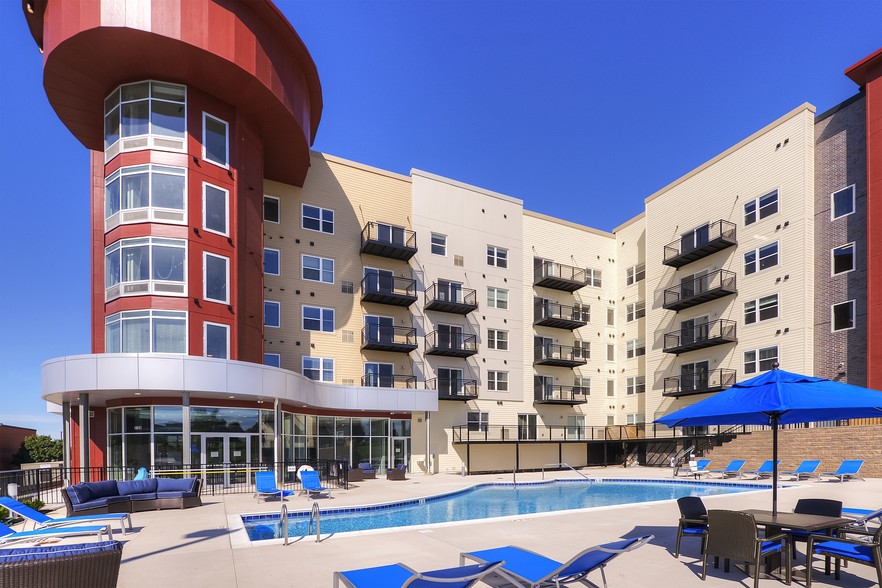 ---
Scott Compton Speaks on Building Lifecycle & Maintenance at AIA Pennsylvania
May 4, 2017
Hear from Scott Compton, Managing Principal of Klein and Hoffman – Philadelphia, as he discusses 'Building Lifecycle & Maintenance' as it relates to K-12 design and buildings throughout Pennsylvania. Over 50 design professionals, K-12 experts and state legislators attended the event hosted by AIA Pennsylvania to discuss the integral role and responsibilities of the AEC industry in advocating for a brighter future.
---
K&H Open House
April 7, 2017
Our Open House was a huge success. Thank you to everyone that came out – we hope you enjoyed it as much as we did. We'd also like to thank our K&H team members for all of their hard work. We'd also like to congratulate the winners of our giveaway! – iPad – Nathalie Rader, Property Manager of a Michigan Ave Condo High Rise; FitBit Alta HR – Stephanie Skelley, Associa Chicagoland; $100 MasterCard Gift Card – Jeff Runck, Berglund Construction. Click here to view photos!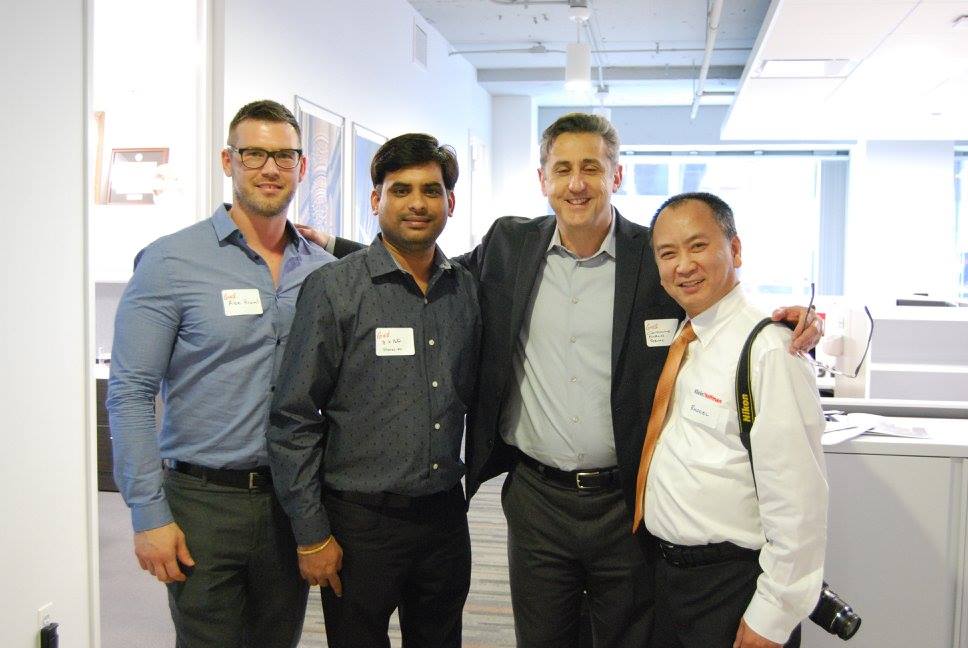 Bad Axe Throwing Chicago
April 7, 2017
We rolled up our flannel sleeves for some adrenaline-filled axe throwing, lumberjack style at Bad Axe Throwing Chicago. The competition was intense, but good sportsmanship was the theme of  Friday night with everyone cheering for the throwers no matter the team. View more pics on our FB page.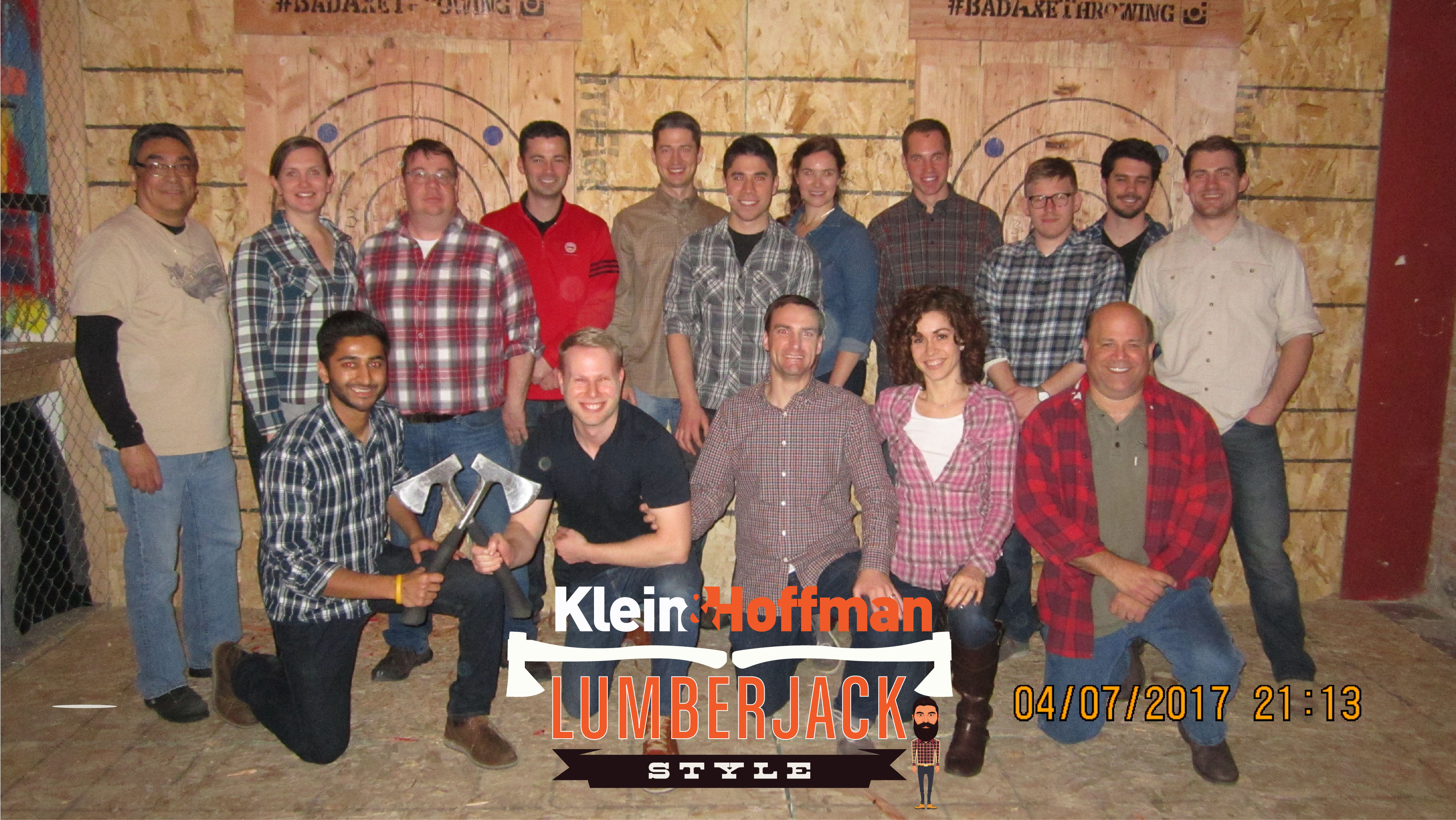 ---
Pete Roman Retires from Klein & Hoffman
March 31, 2017
We have another legend hanging his cap on the wall here at K&H to enjoy his next chapter in life. Pete Roman, one of our beloved inspectors will be retiring from the office to enjoy many of his hobbies. Pete has served in the office for 16 years and taught a lot of us the joy of our field. He will be missed by everyone here and we wish him all the best in the future! Keep on flying! Click here to view photos from the office retirement party.
---
Legendary Landmarks Celebration 2017
March 28, 2017
Celebrating Chicago's legendary leaders and their contributions to the civic and cultural skyline.  Click here to view our album.
---
Kyle Stanish Keynote Speaker at the Loyola University Big Ten and Friends Parking and Transportation Conference
March 30, 2017
Loyola University hosts the 2017 Big Ten & Friends Parking and Transportation Conference April 2nd – 5th. The annual Big Ten & Friends University Transportation and Parking Conference will take place April 2nd to April 5th focusing on the unique issues of the higher education transportation and parking environment. Kyle Stanish, PhD, SE, PE, is a keynote speaker and will present, "What to Expect when you are Restoring". Kyle was recently appointed Chair of American Concrete Institute Committee 365 on Service Life Prediction, and Chair of the Durability subcommittee of ACI 562: Assessment, Repair and Rehabilitation of Concrete Buildings (the Concrete Repair Code). Click the link to view more about Loyola University's upcoming conference. http://www.luc.edu/campustransportation/big-ten/
---
High-Performance Design in High-Rise Buildings
March 27, 2017
Allison McSherry joins Brett Bridgeland of Seventh Wave to discuss building envelope performance including energy code requirements, compliance and performance properties; and performance solutions for all-glass buildings. Building owners, developers, architects, mechanical and electrical engineers, project managers, general contractors, energy efficiency specialists, commissioning authorities, and anyone involved and interested in high-performance building design are encouraged to attend this free webinar, Wednesday, April 12th at 1PM. Click here to learn more.
---
Klein & Hoffman is Holding an Open House on Thursday, April 6
March 9, 2017
Everyone is invited to attend from 4:00pm to 7:00pm to celebrate K&H's new brand, website, and rehabbed office. There will be a full bar, finger food, ping pong, and even an iPad giveaway. RSVP for this free event by emailing RSVP@www.kleinandhoffman.com.
---
Klein & Hoffman Unofficial Ski Trip
February 4, 2017
Some of the K&H team got together for the annual (unofficial) company ski trip at Granite Peak. Click here to view photos from the trip on the company Facebook page.
---
Homa Ghaemi a Panelist for SEAOI's Women in the Built World Symposium
January 27, 2017
SEAOI Structural Engineers Association of Illinois' Women in Structural Engineering (WiSE) partnered up with Women in Restoration & Engineering (WiRE) and Chicago Women in Architecture (CWA) for the 'Women in the Built World Symposium' being held today at the Merchandise Mart. Klein and Hoffman COO / Principal Homa Ghaemi is a panelist at the "Women in Leadership: View from the Top of the Ladder" session where she and other panelists will discuss their personal career experiences and insights on leadership.
---
Klein & Hoffman Team Members Judge the 25th Annual Future City Regional Competition
January 9, 2017
The future is bright! Michelle Ryland and Jon Carag judged the 25th Annual Future City Regional Competition at UIC. The Future City Competition serves 6th, 7th and 8th graders. Click here to learn more.
---
Klein and Hoffman Kares Prepares Meals from the Heart
December 16, 2016
Serving others warms our hearts. Our team prepared a delicious taco bar and an ice cream station with a variety of toppings for the brave kids and families at Ronald McDonald House. We are thankful for another team opportunity to serve these families with Meals from the Heart.